The mom who made it "cool to love your gay kid"
The movement that has sparked interest all the way to Hollywood
by Robin Dorner
Editor in Chief
It all started with a book. Well, it actually started with a gay kid whose mom wrote a book, but the book is from where the movement launched.
The book is How We Sleep at Night: A Mother's Memoir. The movement; Free Mom Hugs (FMH). The gay kid is Parker Cunningham whose mom is Sara. She wrote the book.
"Once you find your voice it's empowering to be honest with yourself," said Sara. "Once you put yourself out there, and you see the power from it, I think it's validation. Voices matter; stories matter."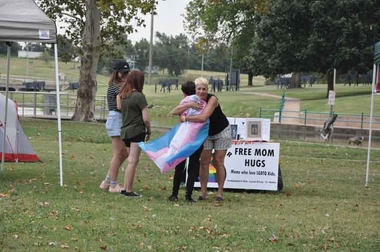 You see, Sara was feeling trapped between the love she had for her son (the gay one), and the love she had for her church.
She realized triumph when finding God's love is stronger than any.
In the book, Sara writes how she used to tell her son, "just don't be gay." It is a comment she said she definitely regrets. 
Parker was in grade school the first time he mentioned being gay. "Mom I think I'm gay. … I don't think like other boys do."
To diffuse the situation, she said, "these feelings" were normal hormonal growing pains. …
Then, When Parker was seventeen, he said, "Mom, I'm gay."
I yelled at him, "You shouldn't even be thinking about this stuff! Everyone at your school thinks their gay!"
"I would have changed everything I did," admitting she felt shame over those words spoken to her son when he was young.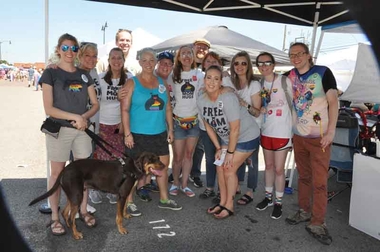 "I would have celebrated it from the get-go. From the time he told me at the kitchen sink."
There was a time Sara and her husband considered sending Parker to conversion therapy.
"There was a time I dialed that number," she said. "The only reason Parker didn't go was his age." He was between age 13-15 at the time, and Sara said she thought with conversion therapy she was saving him.
"I have come to peace and beyond from that experience. This whole thing has expanded my thoughts on God."
Sara sees in herself only a few traits of the way as she was back then. "I'm still driven, I am a woman of faith and loving my children.
"But today I experience God to a much greater degree. At one time I believed if Parker was going to hell for being gay, I was going to fight for him like my hair is on fire."
Sara admits she is not the first mom to give hugs at Pride festivals and other events. That was and is being done.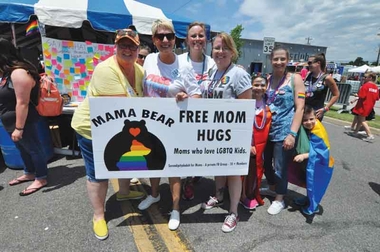 "I might be the face of it now, but it was already happening. There are just millions of moms. FMH's is ushering in something that was already there."
For this mom, it all began at the 2015 Pride festival in Oklahoma City.
"I remember my first mom hug. I was at OKC Pride at our table in 2015. I was the only one at the table. I stood there with my FMH button on and asked anyone who made eye contact with me if I could offer them an FMH or a high five because not everybody is a hugger.
"It caught on. People would see what was happening. We would have conversations. I had resources there. It was a profound day. It was a pivotal moment."
And she said with a smile, "I never did get all the glitter out of my jeep from that day."
Sara said any goals she had for FMH have been met and exceeded. "Every vision I have ever had; everything good has fallen in our laps."
What does she envision? "I see tours. The first tour, in 2017, was to the Stonewall Inn. It was the tour of beginnings. Tour two in 2018 was to Laramie, Wyoming to the Matthew Shepard Memorial. It was the tour of facing your fears because the Matthew Shepard story is the fear of every mother."
Tour three, planned for 2019, will be the tour of hope to San Francisco, inspired by the life of Harvey Milk.
And, you heard it here first; the fourth tour in 2020 is planned for Washington, D.C. It will be the tour of victories.
Sara works a full-time job but is able to balance work and all this activism because "I'm surrounded with people who share the same vision.
"I balance with the support of my husband, my family, and some really badass people."
She said people have asked if she thought FMH's would ever turn into a "movement." She used to say no.
"But the truth is, as the dust settles I believe we've ushered in something that was already there. FMH gives moms, friends, and allies permission to stand up, speak out and show up. … A dear friend said to me recently 'FMH made it cool to love your gay kid.' I like that."
After being asked to perform several same-sex weddings, Sara became an ordained minister. Soon after, one of her social media posts went viral when she offered to stand in as a mom at weddings for gay couples whose marriage is not accepted by their parents.
Today, Sara attends church, but not regularly. "When I do go to church, it's an affirming church."
And, yes, it's true. Actress Jamie Lee Curtis has contacted Sara about buying the rights to this book which started the movement. They spent some time in late September talking about that when Curtis was in Oklahoma City.
"Nothing is signed or official," Sara said adding excitedly that "Jamie Lee is a huge fan of FMH's."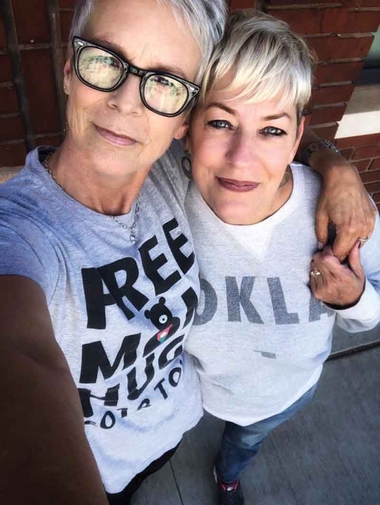 On September 27, Curtis posted a photo of herself with Sara and this message, "Spent the day with my doppelgänger, leader, social activist, mother, mama bear, general badass and spectacular human, @saracunningham whose story on FB brought me to Oklahoma City. Her program @FreeMomHugs and their support for LBGTQ members is heroic and important and as we say in show off business.... stay tuned."
Sara shared that on her FB page with this message, "I. AM. THRILLED."
Sara recently announced a partnership between FMH, Inc., and Serendipitydodah for Moms. Serendipitydodah for Moms has been a harbor of safety, resources, and support for moms of LGBTQ+ kids for years and was the inspiration for the FMH movement.
For more information or to donate to FMH's, visit www.freemomhugs.org.
Copyright The Gayly – November 12, 2018 @ 7:25 a.m. CST.