More on "cross-dresser" email at Oklahoma State Capitol
by Rob Howard
Associate Editor
"There are both Democratic and Republican members that are just as upset as we are," said Troy Stevenson, Executive Director of Freedom Oklahoma, about an email this morning that referred to transgender people lobbying at the Oklahoma State Capitol as "cross-dressers".
The Capitol was awash over the content of the email by late morning.
The email, sent by Karen Kipgen, the Page Program Supervisor for the House, said, "As per the Speaker's office, Pages are being allowed access to the ladies restroom across from 401, for today. Again, there are cross-dressers in the building."
The email apparently referred to a group of students from Tulsa who were at the Capitol to speak with their lawmakers about school funding. Toby Jenkins, Executive Director of Oklahomans for Equality, said, "We have several transgender and gender non-conforming kids in our group. They've been visiting legislators and using the bathroom they are comfortable with." Jenkins was escorting the student lobbyists.
The Gayly contacted House Speaker Charles McCall's office, which said the email did not originate from the Speaker's office.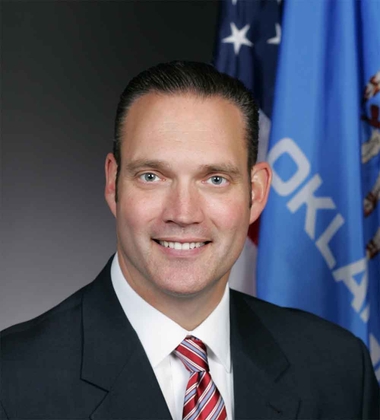 This afternoon, Speaker McCall issued a statement on the matter, saying, "The email was not authorized by me, my staff or my office. It was sent unilaterally by a House staff member without any input or permission. I was unaware that such an email was being sent, and the remarks contained in the email are not condoned by me or the Office of the Speaker. As Speaker, all Oklahomans should feel welcome in the Oklahoma Capitol building. We are looking into this matter, and it will be taken seriously."
The Oklahoma House GOP tweeted, "The email sent today referring to transgender men and women as 'cross dressers' DID NOT come from the Speaker's Office or at his direction." The Twitter feed added, "We are looking into the matter and will take appropriate action shortly."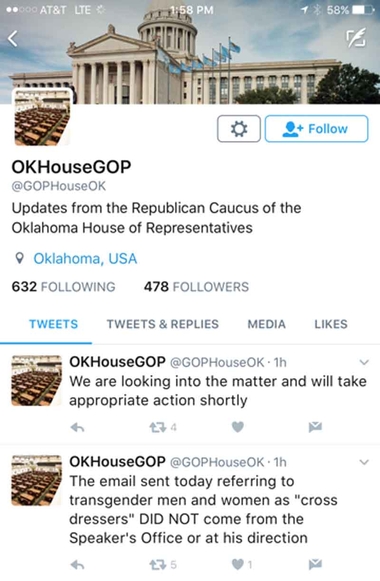 According to Stevenson, the Speaker had not heard of the email until the student group visited his office. Stevenson also said that he understood that the email had not come from the Speaker.
State Rep. Eric Proctor (D-Tulsa) and Rep. Emily Virgin (D-Norman) spoke with the students. In a conversation with The Gayly Rep. Proctor applauded the group for being at the Capitol. "You've got a group of kids advocating for funding education. They are doing their civic duty. I told them that this building is as much their building as anyone's. I was proud of their bravery and courage for being there."
Asked about how the group of students was feeling, Rep. Proctor said, "There were a lot of kids that were hurt. Hopefully Rep. Virgin's and my words were healing. They are doing what works with legislators – putting a face and a name to people advocating for an issue. I was proud of them."
Rep. Proctor also said, "From what I know about Speaker McCall, I would be shocked if it [the email] came from him directly. He's a good man."
Proctor added that the email is a distraction. "For me, it's a distraction and something that's going to be a national embarrassment. We should be focusing on the core functions of the government."
Stevenson noted that this was, "Not the first instance of a marginalized community being discriminated against at the Capitol." He mentioned pre-conditions issued by Rep. John Bennett before he would meet with Muslims, earlier this session. It was a full page of questions, including one about beating your wife.
Stevenson continued, "This is about climate and culture at the Capitol, and we can address that much better if members of our community are not attacking individuals at the capitol." He was warning against attacking Ms. Kipgen on social media. "Just because our community is being attacked, does not excuse bad behavior on our part."
He concluded, "It's a deeper problem than just one email. It's about not having been trained on how to speak to or about minority populations. I think it's very much a teachable moment. We are asking the Speaker's Office to do more sensitivity training or diversity training."
TheGayly continues to watch developments in this story, and will issue updates at www.gayly.com or on our Facebook page at The Gayly, as they come up.
Copyright 2017 The Gayly – April 10, 2017 @ 4:10 p.m.