Enid Pride works to further unite their community
by Robin Dorner
Editor in Chief
"This year we are taking inclusion to a new level in our LGBT community," said Cynthia Stevison, Enid Pride facilitator who has been an Enid Pride volunteer since 2011.
"We looked at past pictures of our Pride events and saw few people of color. We discussed this with our community and decided to make strides towards a more inclusive Pride community."
Stevison said they are reaching out more than ever to people that have been marginalized, ignored and excluded. "This is important for us to uplift and empower all the LGBT communities."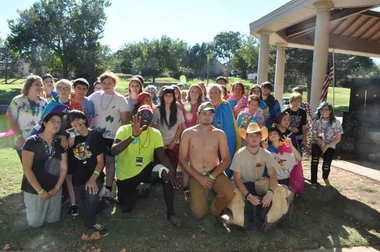 Enid Pride is set for September 16. The event is hosted by the Enid LGBT Coalition, chaired by Robert Hayes with Vice Chair Zach Blackburn. The Coalition has its three C's for community outreach: contributing to, communicating with and connecting with all members of the community to encourage acceptance and provide education throughout.
An alcohol-free event, Enid pride includes fun and educational opportunities appropriate for all ages. With speakers, entertainment and vendors catered to all age and education levels, there is something for every member of the family. The event is dedicated to celebrating the local community while inviting all LGBT+ people from the region to share in the celebration to learn and grow together as a community united both in Enid and beyond.
"Enid Pride is all about growing with a growing community," added Stevison. "We hope to build relationships by our commitment to pursue excellence, create unity and be of service to all members of our community."
Enid Pride is run by an all-volunteer committee and is funded by sponsorships and donations. It is a nonprofit event with no paid staff. Previous year's sponsors include The Gayly, Oklahomans for Equality, Freedom Oklahoma, Edmond Trinity Christian Church, Central Christian Church of Enid and Drummond United Church of Christ, among others.
The group's mission is "to become more deeply aware of the diversity and history in our own community."
"This is an invitation to move more deeply into the act of diversity awareness," Stevison said in conclusion. "This is a celebration that builds respect and memories for the next generation and helps us think about our milestones in the LGBT community.
"This act of pride reminds us that we belong to a bigger community than ourselves."
Enid Pride will be held at Government Springs Park in Enid, Oklahoma from noon to 6 p.m., September 16.
For more information or to get involved, visit the Enid LGBT Coalition website at www.enidlgbtcoalition.org or visit the Enid Pride Facebook page.
Enid Pride also holds monthly meetings that are open to the public. The dates for each meeting are posted on the Facebook pages for both Enid Pride and Enid LGBT Coalition. All people are encouraged and welcome to participate.
Copyright 2017 The Gayly – August 30, 2017 @ 11:20 a.m. CDT.