"My Rat Problem, Continued"
Jini Kim creates narrative paintings that illustrate her reaction to personifications of toxic masculinity. Her show, My Rat Problem, Continued, will showcase at the March exhibit of local artists at Tulsa's Oklahomans for Equality (OkEq).
The show opens with a reception on Thursday, March 1, from 6-9 p.m. and will be on display throughout the month.
Kim is an artist from Tulsa, Oklahoma who received her Bachelor of Fine Arts in Painting and Drawing in 2014 and is working toward her Master of Fine Arts.
Her current body of work combines painting and printmaking on topics of feminism, modern Orientalism and toxic masculinity.
My Rat Problem, Continued combines painting, printmaking and sculpture to create a narrative that satirizes contemporary culture, modern Orientalism and feminism. This series began with linoleum cuts printed on paper.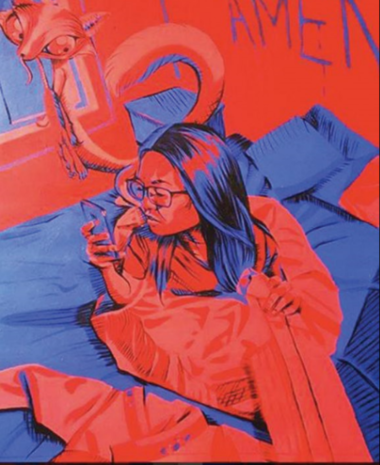 "I create narrative paintings that illustrate my reaction to personifications of toxic masculinity," said Kim.
"These paintings include a consistent theme that surrounds feminism, heavy metal and modern Orientalism. My love for Ed Roth, lowbrow art and heavy metal is present through the graphic style and the substantial reference to Ed Roth's notorious Rat Fink."
In Kim's art, the rat became a satirical view of male virility. The rat's head, seen as a phallic symbol, is disturbing the main character or the artist's presence.
The graphic quality, then carried into the paintings, starts to incorporate jarring, complementary colors. These large-scale paintings provide a slick, finished quality that mimics the graphic colors of serigraphy and the serial aspect of the underground comix of the 1980's.
The paintings also reference a history of female figures in the bathtub or the bedroom. Historically, female figures at a toilette or the bedroom are fluffed, pristine and European.
These paintings show more of an honest aspect of a woman at her toilette or the bedroom; a woman who is disturbed by the lineage of female objectification and eroticization of non-white women.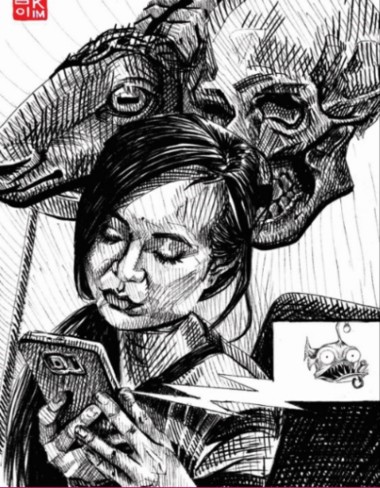 "Being an Asian woman often casts an expectation to be either a fetish, obedient, loyal, submissive, weak, dependent or a model minority type," Kim added.
"There is a weird obsession over Asian woman while Asian men are emotionally castrated. [Women of color], in general, are exploited for their bodies and a quest to conquer, creating a hostile and dangerous environment between men and women.
"I aim to represent marginalized groups of women and include more characters in future paintings."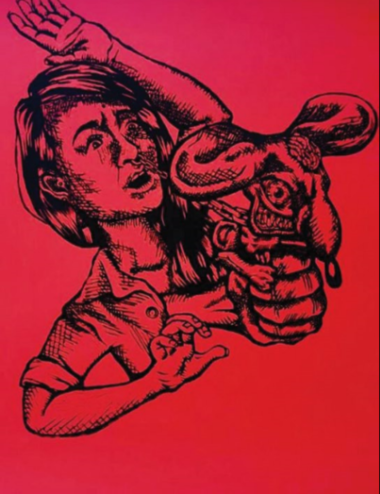 The exhibit will be displayed at the Dennis R. Neill Equality Center,
621 E. 4th Street in downtown Tulsa where a door prize of the artist's work will be given away.
Oklahomans for Equality (OkEq) seeks equal rights for Lesbian, Gay, Bisexual and Transgender (LGBT+) individuals and families through advocacy, education, programs, alliances and the operation of the Dennis R. Neill Equality Center. www.okeq.org.
The Gayly. February 26, 2018. 9:42 a.m. CST.