New Year, new artist at OkEq art gallery
The New Year brings the self-taught artist, Nan McDowell to the Oklahomans for Equality (OkEq) showcase and exhibit of local artists. The show opens with a reception on Thursday, January 4 from 6-9 p.m. and will be on display at the Dennis R. Neill Equality Center throughout the month.
McDowell was born in 1940 and grew up in Quincy, Massachusetts. As a self-taught artist, her painting was a welcome escape while pursuing careers in healthcare and education. She currently divides her time between Colorado and Oklahoma.
The artist enjoyed her first art workshop with Ardith Goodwin a week before her first solo show in 2015. The techniques learned in that workshop have forever changed her approach to painting. Conveying emotion through painting remains at the center of her work.
The last three years McDowell has immersed herself in exploring her artistic framework. What has emerged is a love of depicting women in various states of emotion and emotions surrounding homelessness.
Deeply seated in emotion, her psyche has its effect on others. She remarks that visually presenting the human condition through expression is where she feels most rewarded. She presents many styles, but her strength lies more in monochromatic tones with a small splash of color. When painting the human form, she often uses photos to get the proper angles of the body.
"Frequently, my people come to me as I think about a certain feeling I want to express," said McDowell. "I do a quick pencil sketch to achieve a natural pose. Occasionally, the original concept is sketched with paint directly onto the canvas. I layer with glaze and swaths of gesso."
She says she is more comfortable with pallet knives and broader strokes, but as seen in her art, the smallest stroke can create impact. Her medium of choice is now acrylics.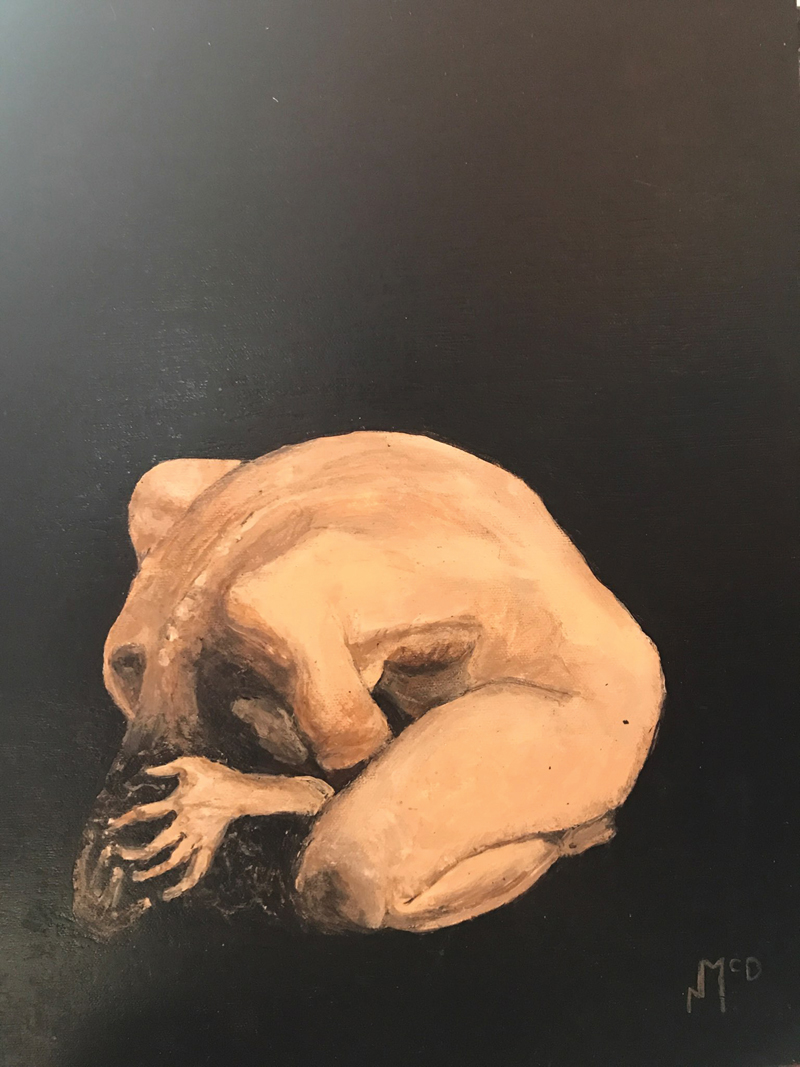 "I want the painting to tell the story that the viewer places on it. My minds-eye continues to explode with ways to create on canvas, the struggles, and joys of being human. You will see a lot of focus on the eyes, as I believe they truly are the window to your soul. My most recent work reflects my attempt to paint with a softer, less realistic hand. Second to portraying women, is my love of depicting street people in an uplifting way so I couldn't resist including my charming homeless man."
McDowell's art will be displayed the entire month of January with an opening reception on Thursday, January 4 from 6-9 p.m. at the Dennis R. Neill Equality Center, 621 E. 4th Street in downtown Tulsa. There will be a door prize drawn of the artist's work. The show continues throughout the month.
Oklahomans for Equality (OkEq) seeks equal rights for Lesbian, Gay, Bisexual and Transgender (LGBT+) individuals and families through advocacy, education, programs, alliances and the operation of the Dennis R. Neill Equality Center. www.okeq.org.
Copyright The Gayly 12/31/2017 @6:21 p.m.