by Robin Dorner
Editor in Chief
14 bullets hit the Dennis R. Neill Equality Center in Tulsa in the wee hours of the morning, March 5.
The Center is the home of Oklahomans for Equality (OkEq). Toby Jenkins, the Center's executive director said, "He [the shooter] wanted to let us know he knew where we were but he also let everyone know that we were here."
Initial reports said 13 bullets hit the center, but further inspection revealed 14 bullet holes, as well as two more in an adjacent building.
Hate crimes are on the rise throughout the United States. There are increased feelings of antisemitism, attacks on Jewish community organizations across the nation, and discrimination and taunting of Muslim Americans.
According to the Center for the Study of Hate and Extremism (CSHE), hate crimes were up 20 percent after November 8, 2016. Attacks on persons because of race were up 20 percent in 2016, according to the study.
Further, several trans women were murdered in February and March, causing a sharp YTD increase over 2016 trans murders.
Vandalism and violence against the LGBTQ community are not considered hate crimes.
In the last 6-8 weeks, a wave of vandalism and violence has hit LGBTQ centers across our nation, not only in Tulsa, but in New Jersey, Orlando and Washington, D.C.
Some organizations are beefing up security, some are not. Of the centers in The Gayly region we spoke with, some voiced increased concerns about security.
"While we have not had any incidents, we have been aware of the recent attacks and acts of violence towards LGBT Community Centers around the country," said Samantha Ruggles, Executive Assistant at LIKEME Lighthouse in Kansas City, Mo. "We did get an alert from CenterLink about this very subject and have been reviewing our security procedures."
"We're looking for new space and now are concerned about windows and ways of access," said Freedom Oklahoma Executive Director Troy Stevenson, who offices in Oklahoma City. "We want everyone to feel as comfortable and secure as possible. We'll have a security system where people will have to be buzzed in."
"My old office in New Jersey was vandalized the same weekend as the vandalism in Tulsa." Stevenson is the former director of Garden State Equality.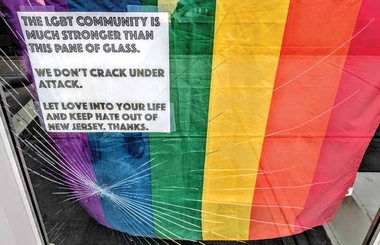 The Garden State Equality vandalism happened on March 4, according to their website. Executive Director Christian Fuscarino was inside working at the time, but was not injured.
"This kind of incident shows that hate knows no boundaries," said Fuscarino. "It is not restricted by geography, even in a state as historically progressive as ours. The LGBT community in New Jersey will not be intimidated, nor will it be silenced. We will continue to fight for equality."
Garden State Equality is working with their local police department to identify the attackers responsible. The attackers hit the door exactly where the rainbow flag was affixed and the organization expects the police should and will investigate it as an attack on all LGBTQ people.
Vandals also smashed a window at Equality Florida's Orlando offices in February. Michael Farmer, Deputy Development Director of the agency, told the Orlando Sentinel, "We see this national climate where minority businesses and worship centers are getting bomb threats and being vandalized and I hate to think that this is a piece of that but it's obvious someone selected our office and did this," Farmer said. "It's not going to scare us or detour what we do," he added. No one was working in the building when the incident happened.
According to NBC news, in March a man burst into Casa Ruby, the Washington D.C. center for transgender women, demolished a door and attacked a woman at the center. She was not severely injured. The man took off.
Also, in February, LGBTQ community centers in Los Angles and Milwaukee were vandalized by graffiti containing anti-gay slurs.
Back in Oklahoma, Jenkins explained that in the days following the incident, several people have come forward for help who did not know the Center existed before these news stories.
"One was a fifteen-year-old boy from Ada who was struggling with how to come out to his parents. Another, a 78-year-old woman who had been victimized and abused, felt like she could reach out and tell of her plight without being judged or humiliated. Then, there was the Tulsa businessman who, contemplating suicide, heard about the shooting and came to the Center looking for help.
"These were people who did not know we were here before," Jenkins said passionately.
"This was meant to hurt us, but has ended up helping further our mission."
We all must join together against such hate acts and violent crimes. We should not remain silent in the wake of such dejection.
Ken Townsend, Senior Editor, contributed to this story.
Copyright 2017 The Gayly – April 19, 2017 @ 10:40 a.m.