by Ray Freer
Entertainment Columnist
I've written several times this year of my love of cruises for a vacation. This year my husband Aubrey and I have been fortunate enough to go on three. The first two were regular (predominately straight) cruises to Alaska and Hawaii, but the most recent was an Atlantis (all gay) cruise to Mexico.
This most recent Atlantis cruise was our fifth with the company and it's always a great time. We always pick our trips based on destination, but when that can coincide with an all gay group, it's even more fun!
We had never been down the west coast of Mexico. This cruise left from San Diego for Cabo San Lucas, Puerto Vallarta and Mazatlan. San Diego is always a great travel destination and the bonus was we arrived during Fleet Week. The Navy was out in full force to show the public their ships.
We toured an active troop and cargo carrier, the Anchorage, and the famous retired aircraft carrier, Midway. The Midway is an absolute must for anyone curious about military technology, history and armament. One needs to allow at least three hours though and more if you want to see everything.
On to the cruise. We boarded our ship around noon the day we sailed. Even though the ship usually doesn't leave until around five, that gives you plenty of time to find your cabin, explore and become acquainted with the ship and to eat to your heart's content at the buffet.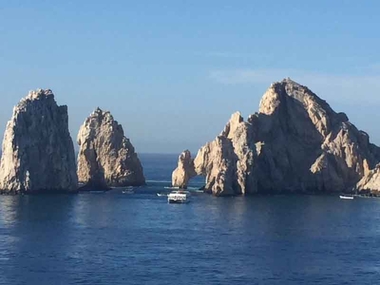 After a couple of fun days at sea, filled with Tea Dances, late-night parties and endless food, we arrived in Cabo San Lucas. It is not the most picturesque location. You're confronted with great social and societal inequity as you leave the city. There are lovely modern areas, beside miles of desert shanty towns of plywood and cardboard houses.
We drove about an hour outside of the city and did a zip line adventure in the mountains. There were seven runs, one over 200 feet in height and 2,000 feet long. Between were places of hiking up and down steep hillsides; a great opportunity to burn off those cruise ship calories. At 61 and 70, we're staying active and adventurous. Not bad at all for two old guys!
The next day was Puerto Vallarta, a large and urban city, located in a lovely and verdant setting along the coast with rich green hillsides behind. We had a wild time, starting with an hour-long boat ride. Then, we took an ATV ride into the mountains, up wild and treacherous roads. Next we mounted donkeys for another twenty minutes to get even higher into the mountains.
From the top of the mountain, we descended on zip lines, upside down zip lines and water slides built into the mountain. There were also two rappels, one down through a waterfall and another into thin air that landed us in a very cold mountain pool at the base of another waterfall.
It's not just adventurous and great fun to do these things; they allow us to enjoy the great scenic beauty of places we've never been.
The last stop on the trip was Mazatlan. The downtown area near the ship is not very attractive. I recommend you catch a cab to the colonnade along the coast with the cliff divers, lovely statues and high-end shops. Plan on bargaining, even in the very best stores. For a bracelet that started at $160, I ended up paying thirty (and suspect that was ten dollars too much).
We ruminated over the highs and lows of the trip. I will, absolutely, return to Puerto Vallarta. There is so much more there to see and do than we had time for, but we probably don't need to return to Cabo or Mazatlan.
We're planning our adventures for next year at this moment, and are hoping we can bring you along with us through our Gayly reports. Safe travels.
Copyright The Gayly – December 8, 2017 @ 9:30 a.m. CST.