Vick's Picks: Thought provoking movies for your consideration
by Vick Silkenpen
13 Minutes: As nationalism and fascism begin to rear their heads around the globe and close to home, history parallels. Responses and actions taken to such threats are obscured by time and circumstance.  
Just as Hitler was plunging Germany and his Nazi machine into war, one man named Georg Elser decided to take decisive action. He built and detonated a huge bomb behind the lectern where the Fuhrer was giving a speech.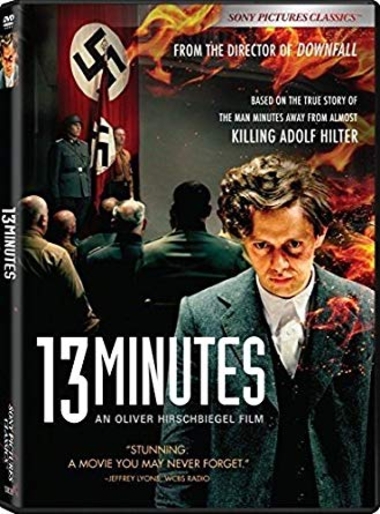 However, Hitler left the Munich Burgerbraukeller hall 13 minutes before the explosion which killed eight people but not the main target. Elser, a carpenter, was arrested at the Swiss border with schematic bomb diagrams and detonators still on him.
For days he resisted the ruthless tortures of the Gestapo, and he was questioned relentlessly by the head of the Criminal Police.
As Elser relents to threats to his girlfriend, flashbacks unfold, and we learn about the creep and crush of Nazism.
He realizes if he waits for the military of France and England to remove the devastating momentum of Hitler, it will lay waste to his country. He plans and constructs an elaborate bomb to take out the Nazi leadership and alter history.
The movie gives us numerous insights into what formed Elser's moral conviction to act alone and evolve into a mostly unrecognized resistance fighter.
The Light Between Oceans: This film has a high-caliber cast of actors who carry out the impact of the famous novel written by M.L. Stedman. 
Following WW1, there was a lost generation of men numbed by the meat-grinding mass killings they witnessed in combat and participated. One of these damaged vets seeks isolation as the new lighthouse keeper on a small island off the coast of Australia.
His cherished and comfortable solitude is shattered by visits to the mainland where he is drawn to the enticing school headmaster's daughter which rapidly leads to their marriage. 
Ensconced on the island they attempt to have a family but fail. As fate will have it, a rowboat washes ashore to the island where they discover it carries a dead man and a very alive baby girl.
Because of his wife's needs for a child, Tom overrides his own principles and judgement and allows his love for her to squelch reporting their find to the authorities. Their remoteness allows them to bury the mystery man and raise the child as their own.
Delayed consequences are built in as the biological mother progressively enters the picture inquiring.
Sure, the catharsis is a bit calculated and even clumsy at points but that is more than atoned for with the acting and sea-swept cinematography mix. For one that wrings the emotions it does the job.
Copyright The Gayly – September 12, 2018 @ 12:35 p.m. CDT.