OkEq's February exhibit features the fascinating art of Mery McNett
This February, Oklahomans for Equality (OkEq) showcase and exhibit of local artists features a fascinating artist with a fascination of "microscopic organic matter" or "the cells that make up the brain."
The work of Mery McNett will be featured at the Dennis R. Neill Equality Center, home of OkEq, beginning with a reception on Thursday, February 7 from 6-9 p.m. The artist will be featured throughout the month.
McNett is a Tulsa-based artist/animator and a graduate of the University of Tulsa where she studied painting under Mark Lewis. McNett has had work shown throughout Oklahoma and other areas. Her work consists of various media, including sculpture, ink, watercolor, oil paintings, video art, and more.
"My recent influences have been neurology and all biological and not-yet-understood aspects of the brain. There have been theories since the beginning of humankind about the brain, such as the influence of an individual's environment to the chemistry of the brain.
"In the present day, we know more about the cellular and chemistry of the brain, but many questions remain unanswered.
"I have also been influenced by the imagery of the physical brain, the human figure, and incorporating portraits, showing humanity behind biological matter."
What drives this artists passion? "The mystery and biology of the brain; how are memories stored and retrieved? What exactly are emotions, intelligence and imagination? How do neurons store information? What is consciousness?"
She works in watercolor/ink and foam sculptures.
"My work comes from a fascination with microscopic organic matter, most recently, the cells that make up the brain. I find the way watercolor/ink media, when used with certain techniques like wet on wet technique, can be fluid in movement, creating images reminiscent of cells we see in biological studies, such as neurons, which my recent work is primarily focused."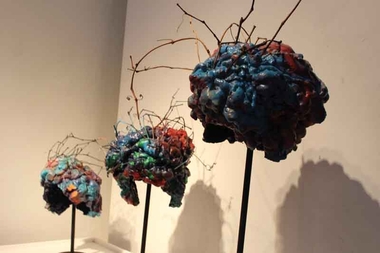 McNett said using this media, when applied with different techniques, such as the one mentioned above, can be unpredictable.
"I find that I have only a small amount of control over where the pigments flow and spread. The spray foam I use for the sculpture behaves similarly. I have limited control with the media, but after I apply it to, for example, a mannequin, the final form after it falls and expands is a mystery."
She said the final form is reminiscent of organic form, such as the whole brain.
"It is also fascinating because the material itself is something that is man-made and does not occur naturally."
The show begins with a reception on Thursday, February 7, from 6-9 p.m. at the Dennis R. Neill Equality Center, located at 621 E. 4th Street in Downtown Tulsa. There will be a door prize drawn at the reception with the winner receiving a piece of work from the artist. The show continues throughout February.
Oklahomans for Equality (OkEq) seeks equal rights for lesbian, gay, bisexual and transgender (LGBTQ+) individuals and families through advocacy, education, programs, alliances and the operation of the Dennis R. Neill Equality Center. www.okeq.org.
Copyright The Gayly – January 31, 2019 @ 1:20 p.m. CST.