Hotel Habana continues improvements, updates and renovations
by Robin Dorner
Editor in Chief
Oklahoma City's Hotel Habana continues to make improvements, updates and ongoing renovations as planned when the hotel was purchased by its current owner, Tom Lagatta.
"We will be renovating the restaurant and bar venues in the hotel beginning this fall, and the bars, club and restaurant will all be renamed," he said.
Work will proceed in stages over one year. The hotel will remain open during all construction.
"The Hotel itself will finally abandon the metal key in favor of electronic cards starting in September," said Lagatta. "New linens and towels have already been placed, and new toilets are being installed."
The parking lot was recently resurfaced and is obvious to visitors or others driving past the historic hotel. Lagatta said they are using members of the LGBTQ+ community for these projects.
"The parking lot was just resurfaced by Jerry Gage, husband of Ginger Style, Tess White of Twin Star HVAC has been working on-site, and general contractor Bruce Johnson is using all the community members possible to continue the work required for the improvements," he said.
Most of the property's exterior has also been updated with fresh, colorful layers of paint. The team is also in the process of installing new LED lighting throughout the property's exterior, making it brighter and more energy efficient.
Formerly the Habana Inn, Habana Hotel property includes 4.14 acres and over 1,000 feet of Interstate frontage. For over 25 years, diverse travelers have made Oklahoma City their vacation destination to visit the popular resort.
For a time, many people throughout the OKC community and beyond thought this iconic hotel might be sold to a buyer who would tear it down. But Lagatta had no intention of demolition, recognizing that the hotel is iconic and unique to the area and it is home to people who have resided there for many years.
Recent additions to the staff include Krista Makenna and Tracy Whyburn.
"Krista was recently named general manager of the hotel bringing many years of hospitality experience to the hotel's transformation," said Lagatta. And Tracy was the previous director of food and beverage at Riverwind Casino. He will be leading management of the new restaurant and bars."
The entire team is excited about the upcoming projects with the 39th St. District as well.
"We are happy about new businesses in the District we've seen and some which are planned to open soon," he said. "These exciting changes fall in line with our original tagline, 'Join the Party.'"
Lagatta purchased the hotel in January of this year. He reports his experience so far has been extremely rewarding, and he looks forward to many years of making the venue a beautiful haven for those who struggle for acceptance and understanding.
Reservations for Hotel Habana can be made at (405) 528-2221, or through their website at www.hotelhabanaokc.com.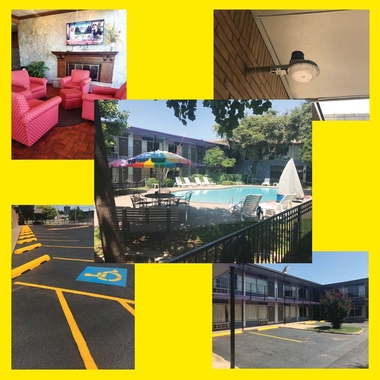 Copyright The Gayly. 9/2/2019 @ 4:50 p.m. CST.