NY Gov. Andrew Cuomo unveils design for state's first monument honoring LGBT community
Governor Andrew M. Cuomo on Sunday unveiled the design for New York's official monument honoring the LGBT community, those lost in the Orlando Pulse nightclub shooting in June 2016, and all victims of hate, intolerance and violence. Anthony Goicolea was named as the artist for the monument, which will be located at the western edge of Greenwich Village, in Hudson River Park. View the design here.
"This stunning design complements the landscape and communicates a timeless message of inclusion, and this monument will serve as an enduring symbol of the role New Yorkers play in building a fairer, more just world," Governor Cuomo said. "From Stonewall to marriage equality, New York has always been a beacon for justice and we will never waiver in our commitment to the LGBT community and to creating a more just and inclusive society. This new monument will stand up for those values for generations to come."
Following the tragic shooting in Orlando, Florida on June 12, 2016, Governor Cuomo issued Executive Order No. 158, establishing the LGBT Memorial Commission, with the mission to design and build a new memorial in honor of the LGBT community and the victims of the Orlando shooting.  The Commission issued a request for proposals in October 2016, and all submissions were judged on their interpretation and clarity of the theme, creativity and originality of depicted theme, quality of artistic composition, site compatibility, and constructability, among other factors.
The site specific design works in harmony with the existing attributes of Hudson River Park and promotes thought and reflection while encouraging people to unite in a communal environment.  It will feature nine modified boulders, some of which are bisected with a clear, laminated, borosilicate-glass with refractory components that act as a prism to create subtle rainbow patterns on the surrounding lawn and nearby objects.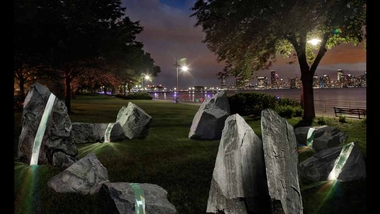 Anthony Goicolea said, "I am honored to join Governor Cuomo and the LGBT Memorial Commission on this important project to remember those who have been victims of hate, violence, and intolerance, while celebrating the beauty of the LGBT community. This monument will serve as a communal space filled with light, color, and hope where the visitors can sit, mourn, love, and remember for years to come.  I am grateful to the Governor and his administration for the opportunity to be a part of this historic moment."
Terry DeCarlo, Executive Director of the LGBT Community Center Orlando, said, "I was very proud to stand beside Governor Cuomo when he announced this memorial last June directly after the Pulse tragedy. It warms my heart to see it taking the next step today as the governor announces the designer of the memorial, Anthony Goicolea. Thank you for honoring and including us here in Orlando and I look forward to joining you, and all New Yorkers, in celebrating the memorial's completion."
Throughout his time in office, Governor Cuomo has been a national leader in championing LGBT rights. In 2011, New York passed the historic Marriage Equality Act and sent a message to the nation that it was time to end one of society's greatest inequities. In 2015, Governor Cuomo implemented regulations affirming that all transgender individuals are protected under the State's Human Rights Law, and all public and private employers, housing providers, businesses, creditors and others should know that discrimination against transgender persons is unlawful and will not be tolerated in New York State.
Earlier last week, Governor Cuomo nominated Paul Feinman to the state's highest court – the New York Court of Appeals – who, with his confirmation this week, became the first openly gay person to serve on the court.
Additionally, the Governor Cuomo has committed to making New York the first state in the nation to end the HIV/AIDS epidemic, banned the deplorable practice of conversion therapy, and strengthened health care and insurance regulations to protect transgender New Yorkers. Last year, the Governor announced that all HIV-Positive individuals in New York City will now be eligible for housing, transportation and nutritional support through a significant expansion of Emergency Shelter Assistance.
The Gayly – June 26, 2017 @ 1:30 p.m.