Obama endorses 22 LGBT+ candidates, as well as several other progressives
Former President Barack Obama continued endorsing progressive candidates in the upcoming mid-term elections, including 22 LGBT+ candidates so far. The Victory Fund, a national organization dedicated to electing openly LGBTQ people who can further equality at all levels of government, issued a celebratory statement on Monday, talking about the candidates they support that Obama has endorsed.
The new list includes Christine Hallquist for governor of Vermont and Sharice Davids for a U.S. House seat from Kansas. Hallquist is running to become the nation's first transgender governor. Davids, a Democrat running in Kansas' district 3, hopes to be the first LGBT+ member of Congress elected from Kansas.
His first batch of LGBT+ candidates was announced in August, and includes Representative Jared Pollis, running for Colorado governor; Katie Hill for U.S. House from California's 25th District; Rochelle Galindo, for Colorado House of Representatives district 50; Taylor Sappington for Ohio House of Representative (district 94); and Matt Wilson for Georgia House of Representatives (district 80).
"President Obama is endorsing candidates who are passionate about public service and committed to making a positive difference in people's lives, so it is unsurprising so many of our LGBTQ candidates are on the list," said Mayor Annise Parker, President & CEO of LGBTQ Victory Fund. "The experiences and struggles of LGBTQ leaders make them authentic, values-driven candidates who understand the pain and difficulties so many are facing right now.
"We are part of every community and every constituency – women, people of color, immigrants and religious minorities – and that diversity strengthens and refines our perspectives. LGBTQ people are running for office in historic numbers not just because our community needs us, but because America needs us."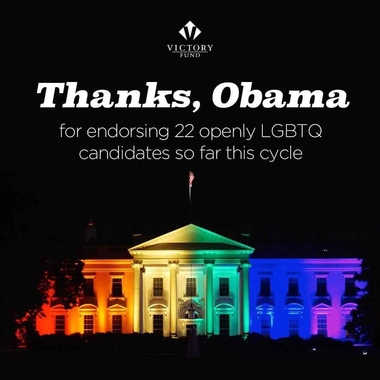 The new list, besides Hallquist and Davids, includes Gov. Kate Brown of Oregon, who is openly bisexual, Senator Tammy Baldwin running for reelection in Wisconsin, and Senate candidate Kyrsten Sinema, the Democratic nominee for Senate in Arizona.
The complete list of LGBT+ candidates supported by Victory Fund and endorsed by President Obama can be viewed here.
Obama also endorsed several progressive candidates in his announcement on Monday, including Florida Democratic nominee for governor Andrew Gillum, and Alexandria Ocasio-Cortez, running for a House seat in New York City. She identifies as a Democratic Socialist.
"The Democratic Party has always made the biggest difference in the lives of the American people when we lead with conviction, principle, and bold, new ideas," Obama said in a statement touting the candidates as a "movement of citizens who are younger, more diverse, more female than ever before."
Copyright The Gayly – October 3, 2018 @ 4:20 p.m. CDT.