OkEq hosts "Pride Day at the Tulsa State Fair" and catches flak on social media
By Robin Dorner
Editor in Chief
Let's be 'fair.' Anyone is welcome to set up an event of any kind on social media. But beware, you may get harassed, belittled, and decried if you do.
Proof in point: when the Tulsa LGBT+ advocacy group Oklahomans for Equality (OkEq) decided they wanted to turn the Tulsa State Fair, "Rainbow for a day," they got a lot of flak and angry messages on the event page they set up.
The group made a Facebook event page titled, "Pride Day at the Tulsa State Fair" for September 29th, and people chimed in wanting their own day.
"We just set up the [Facebook] page for having a Pride Day," said OkEq Program Director, Jose Vega. "We just set it up and thought how fun it would be for all of us to go together.
"We have seen all kinds of post about 'How dare Tulsa Fair do this and not include other groups?"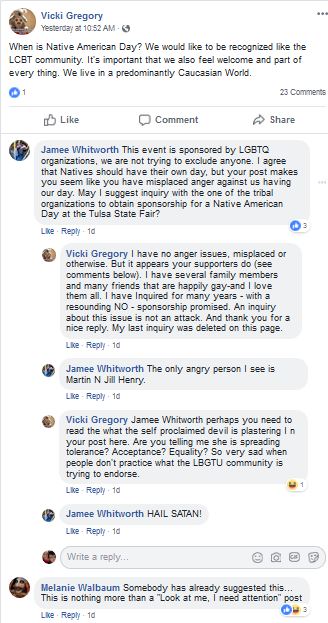 Perhaps some people have never heard of the Two-Spirit community, a subset of the LGBT+ community who are Native American.
From the above thread post, Martin N Jill Henry said, "will not be going to the fair this year then if they allow this crap. Your sexuality is not something to be prideful of. A person's heritage is something to be proud of and have a day to honor it."
A question you might ask is, why would "Martin N Jill Henry" not go to the fair altogether this year just because there is a Pride Day? The fair is from September 27 through October 7 this year. This schedule leaves many other days to enjoy the fair and not attend Pride Day.
Vega explained the event is not coordinated through the Tulsa State Fair. It is an event set up for and by OkEq to encourage the LGBT+ community to all 'come out' to the fair on the same day and band together.
"There has been a trend of homophobia at the state fair," he said. "We have had reports called into OkEq during previous state fairs of people being discriminated at the fair such as when same-sex couples hold hands or kiss in public at the fair.
"We just want to show unity, and community, and to meet new people. Maybe see some friendly faces."
All organizations, sects or groups are free to do the same on their pages, he said.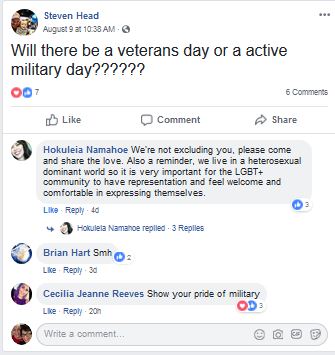 "This goes to show that homophobia is alive and well in Oklahoma," added Vega. "We are a marginalized community. But if someone like the Native Americans or veterans want to do their own day at the fair, they are welcome to rally up their friends and followers and organize their own event."
Vega again stressed this was an idea they had and pursued setting it up. It is not an event organized through the Tulsa State Fair.
Jamee Whitworth responded to the Henry's with, "I have pride in my sexuality because everyone should be proud to be themselves especially when it comes to love. I do not have pride in my heritage because I am white, my people slaughtered your people. That fact I am not proud of... I am proud that I have the courage to say your bigoted hatred is not warranted or welcome here."
To participate in the OkEq event, "Pride Day at the Tulsa State Fair," simply click here.
Copyright The Gayly 8/13/2018 @ 6:56 p.m. CST.