Oklahoma City artists featured in December at OkEq
December brings two Oklahoma City artists work to the Oklahomans for Equality (OkEq) showcase and exhibit of local artists. The works of Virginia Sitzes and Mycah Higley will be on display through the entire month.
The exhibit, held at the Dennis R. Neill Equality Center, will begin with a reception on Thursday, December 6, from 6-9 p.m.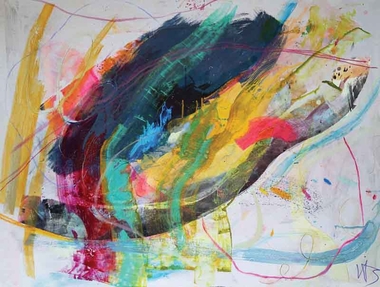 Virginia Sitzes received her BFA from the University of Oklahoma in 2017 and co-founded Art Group OKC. She currently resides in Oklahoma City where she is a practicing professional artist. Her work is process intensive; through printmaking and painting, she gives in to intuition and the natural effects of chemistry on paper.
Sitzes finds relief in being consumed by the moment and visually solves her questions. Her work reflects internal thoughts and processes, as well as fun and beauty that she finds throughout the world. Her work can be seen at virginiasitzes.com.
"There is freedom in letting go of control," Sitzes said. "My work, in a literal sense, is a visual manifestation of my inner thoughts. While playing with the merging of mediums, a brush, a screen, a needle, I let intuition guide my mark making. I play with process and abstraction while letting my brain subconsciously deal with moments, memories, and thoughts.
"I hope to give a glimpse of what it may be like to walk down a tiny stream, gather around a campfire at the end of the day, or stand in the midst of waves crashing during the setting of the sun. I want to express the desire to cry, laugh, dance, and sleep all at the same time, through layers and colors and marks. My work becomes more than just a visual experience; it begins to evoke an emotional response. 
Artist Mycah Higley also resides in Oklahoma City. She received her BFA in Painting and Drawing from the University of Oklahoma. Her painting is strictly intuitive and experimental. She uses color, form, and transparency to create low-gravity spaces filled with organic forms that represent the complexity of people. 
"Painting is my means of working through the complexities of humans," said Higley. "The organic forms I paint represent my love/hate relationship with people. Humans are reflections of their experiences. Their thoughts, beliefs, likes, dislikes, and words are what make them individuals.
"I mimic this buildup of experience into personhood using line, color, form, and transparency. My goal is to create an atmospheric space that forces the viewer to look past the surface and into the center of each low gravity form I paint. 
The show begins with a reception on Thursday, December 6, from 6-9 p.m. at the Dennis R. Neill Equality Center, located at 621 E. 4th Street in Downtown Tulsa. There will be a door prize drawn at the reception with the winner receiving a piece of work from the artist. The show continues throughout November.
Oklahomans for Equality (OkEq) seeks equal rights for lesbian, gay, bisexual and transgender (LGBT+) individuals and families through advocacy, education, programs, alliances and the operation of the Dennis R. Neill Equality Center. www.okeq.org.
The Gayly – November 29, 2018 @ 7:30 a.m. CST.