OSU architecture students create vision for Other Options in OKC
by Kara Kliewer
Staff Writer
"Throughout my interactions with Other Options Food Pantry, I was shocked by the enormous community need their staff addresses," stated Atticus Mullon.
Mullon was one of many students tasked with creating a building design for Other Options, Inc. Food Pantry of Oklahoma City (OOI). Behind this task was Professor Tom Spector of Oklahoma State University.
"The course was Architecture 4216 Comprehensive Design Studio at OSU," said Spector. "Students spent a semester designing a new facility for Other Options. The program included not only a new food pantry, but also a facility that would help OOI accomplish its dream of providing a place in OKC for homeless LGBT teens."
For those unfamiliar with OOI, they provide education, have a local food pantry for families and individuals that are affected by HIV or AIDS, and host a Humanitarian Medication Program. Further, they work with other organizations to facilitate housing, case management and other services needed for the clients they serve.
Through their designs, students sought to provide OOI with an updated look with better functionality for their services and clientele.
"While I was working on my project, I could feel closer to LGBT teenagers and at least understand how they felt when they find their identities," said Sam Park, an architecture student. "I was trying to focus on bringing them in the community center to make them feel more involved in the social activities while they are in the building by absorbing a good amount of natural light in the public place and having a private area to gather around."
Each student brought their own unique design take to the task. Park's use of lighting in the picture shown is just one example.
For students to decide on a direction for their designs, part of their research involved volunteering at OOI.
"Each student volunteered at OOI to get a first-hand understanding of the food pantry operations," added Spector. "Part of the requirement was that the food pantry operation be handled as efficiently as possible. Each student was required to run their food pantry layout through an algorithm custom-designed for the project which scored the layout according to the number of steps required for a typical day of unloading, sorting, stocking and shelving."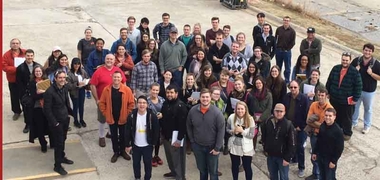 This experience allowed students to connect further with not only the mission but the meaning as well.
"I learned so much about the misconceptions the nation has about people with HIV/AIDS," noted Olivia Good, architecture student.
"Because of this, it was important for me to design something that honored them and mirrored their strength. Planning and designing this building for Other Options really helped me visualize what these people need to make their lives easier and incorporate that into architecture."
Ultimately, the assignment provided vision for OOI and taught what it means for students to design with the client in mind.
"Though the project was academic, the participation of OOI as client made it meaningful in a way that a purely imaginary project could not replicate," added Spector in closing. "It was the source of many thoughtful discussions amongst students as the semester progressed - many of whom had never had contact with people for whom a well-chosen bag of groceries could make all the difference."
Copyright The Gayly – October 20, 2017 @ 7:10 a.m. CDT.