Outtakes: Sam Smith on George Michael, Rihanna and drinking
New York - Sam Smith — whose new album, The Thrill of It All, debuted at No. 1 this week — discusses George Michael, recording bad songs and his goal to cut down smoking and drinking in outtakes from a recent interview with The Associated Press. Read the interview here .
___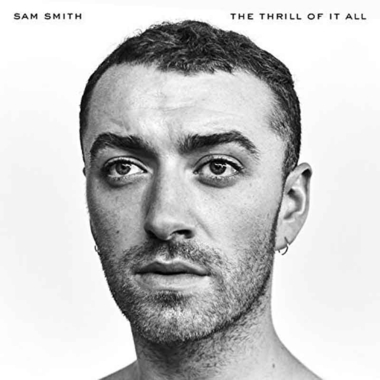 Flowers from George
George Michael, who died last year on Christmas Day, was one of Smith's idols. Though they never met, Smith said Michael was a fan of his music.
"He sent me flowers one year and he was in touch a few times, and said that he liked what I did. ...He was really supportive of me. But I never got to meet him," Smith said. "He just holds a really special place in my heart ... he was the reason I decided I wanted to do pop music, and I just loved how human he was."
"I loved how we went through genres," Smith added. "He was his own genre. If he sang it, it's a George song."
_____
For other recent coverage of Sam Smith, visit:                       
Sam Smith: Off the market
Sam Smith: 'I Feel Just as Much Woman as I Am Man'.
_____
More sleep, less drinks
Smith just released his second album, but he says he's excited to record his third project because "vocally I will be clean when I record it."
"I was smoking a lot and I was drinking a lot when I was recording this album, which I think maybe adds to the subject matter and how intense some of the lyrics are, but it's not good for you," he said. "And I shouldn't have done it because it's just, it's silly. But I didn't damage my throat or anything."
Smith underwent surgery to stop recurrent vocal cord bleeding in 2015.
"I'm really hard on myself, when I say drinking too much, I'm not like, I'm not going overboard, but it's after my operation I should have been more careful because I know better," he said. "I was just being young."
He plans to slow things down when he hits the road for shows: "I won't be drinking. I am going to bed very early."
___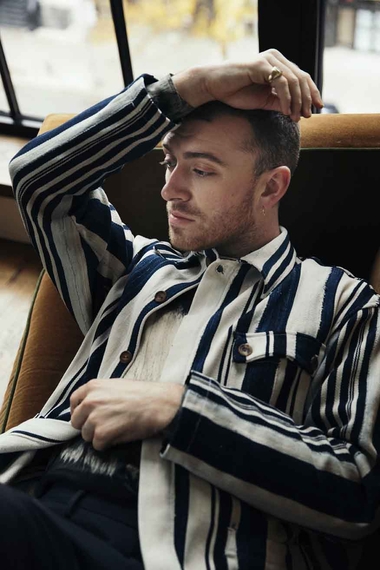 Rihanna: Sam's spirit animal
Smith is a fan of Rihanna's music, but also a fan of how she lives her life as a famous person.
"She inspires me a lot because I think she's just unapologetically herself and that's something that I'm trying to do. I want to be a role model, but I don't want to be a perfect role model. Like, I go and have mad nights out, just like she would. And, like, I'm completely human, I'm going to make mistakes, and I say the wrong thing, and I'm quite dumb sometimes and say random (expletive) I shouldn't say," he said.
"I think we need (people like Rihanna) more because no one's a robot," he added.
___
Quincy, Beyonce and Gladys
Quincy Jones' plus-one to the Monterey Jazz Festival: Sam Smith.
"I see a lot of jazz. I went to the Monterey Jazz Festival as a punter. Quincy took me there. Me and him spent the weekend just seeing amazing acts, and that was very special," Smith said.
"There's a jazz artist in me I'm trying to nurture so that when I get to a certain place I can go into that I think because I don't think I can do the pop thing forever," he added. "It's exhausting. Even bringing out the second album, it's tough. Like radio and stuff is strange sometimes."
Smith said Herbie Hancock was one of his favorites at the Jazz fest. He's also enjoyed Beyonce and Gladys Knight's live shows.
"I saw Beyonce open the 'Lemonade' tour in Miami. ...I was so obsessed. I had to go to bed afterward because I was so exhausted," he said. "I couldn't even go gay clubbing. I was too tired. "
___
Batch of bad songs
When recording his new album, Smith said some of the songs were too deep, and too bad, to be released to the world.
"I won't ever listen to them again," he said of those songs. "There's one song called 'Only for the Cameras.' I've never said that. ...It was really deep but I, no."
"They're a bit too self-indulgent and just too much like, 'Come on. Get ahold of yourself,'" he added. "Even I was listening to them like, 'Pull your (expletive) together, Sam.'"
___
Sam Smith's school for singers
In addition to wanting kids and being "in a relationship forever," another goal for Smith is helping aspiring singers.
"Setting up a singing program or something like that could be amazing," he said.
Could he see himself mentoring singers on a show like "The Voice"?
"I don't know if I'd like that. I don't really watch those shows," he said. "I think they're amazing if you're a singer and you don't write."
How about starting his own record label?
"See I would never do that," he said. "I'm just not a money guy. ...It's all about the music, and the feeling it gives me. ... Every time I'm singing onstage, I'm like near orgasm."
By Mesfin Fekadu, AP Music Writer. Copyright 2017 Associated Press. All rights reserved.
The Gayly – November 16, 2017 @ 10:40 a.m. CST.