Parents' group sends thousands of holiday letters to LGBT+ youth
"Happy holidays! This is your holiday mom! Well, if you want me to be your holiday mom. I'm not an important mom. I'm just another mom out in the world, but I'm a mom who really accepts you as you are, and celebrates you as you are."
These are the words of Robin Rice, founder of Your Holiday Mom, a virtual letter writing service for lesbian, gay, bisexual, transgender and queer youth on the holidays. Rice originally wrote them in a post on her Facebook page in 2010. She wanted to reach the thousands of LGBT+ youth whose parents don't accept them. Her letter, now adapted into a video on her site, quickly went viral.
The letter's popularity inspired Rice to create Your Holiday Mom in 2011. Every day between Thanksgiving and News Years, 40 moms and a few dads volunteer to pen a virtual letter to LGBT+ teens letting them know they are loved. This year, letters will reach over 23,000 subscribers. For many of them — young and old — the words of love and acceptance from strangers are life saving.
"We have quite a few comments where [readers] said 'I was going to take my life tonight and I found this and I'm not going to,'" Rice said. "It's really powerful."
Lesbian, gay and bisexual youth whose families do not accept them are more than eight times as likely to have attempted suicide as those who come from accepting families, according to The Trevor Project.
Rice, 55, knows the gut-wrenching pain of losing a loved one to suicide. Her younger brother struggled with his sexuality, she said, before he died by suicide at age 18. When Rice's son, who was assigned female at birth, came out to her as transgender, she was determined not to let him fall victim to the same fate.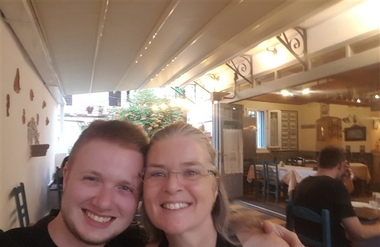 "It was very intense, because he told me three weeks after his 18th birthday, which was exactly when my younger brother had taken his life," Rice recalled.
The comments section of Your Holiday Mom is filled with the experiences of LGBT+ people whose parents are not as accepting.
"Omg thank you guys for making this website," writes one commenter. "It means so much to me knowing there is acceptance out there for someone like me out there. Its [sic] difficult for me because I can't stand up to my homophobic parents because im [sic] only 15."
"What a parent has the opportunity for is unconditional love and that's the opportunity that I wish every mom would have for their child regardless, but it's not the case," she acknowledged.
Rice said her site also helps parents understand there are other moms and dads whose children are LGBT+.
"Sometimes those moms come to the site and they realize, 'OK, there's 40 other moms just this year who are saying you're not alone in being OK with your child and loving your child,'" she said. "So it helps the parent, too, if we can get them there."
To date, Your Holiday Mom has published 240 letters. They may be a bit gushy, Rice admits, but her readers love them. So does she.
"We've had so many comments that touched me," she said.
Your Holiday Mom is one of many social change projects that Rice, a teacher and author, has launched, including #StopTheBeautyMadness, a campaign that challenges unrealistic standards in the beauty industry. She is sad Your Holiday Mom is needed but is overjoyed that it has helped so many.
"It's a privilege to be able to have an impact on the world," Rice concluded.
Information was gathered from this article. 
Copyright The Gayly – November 25, 2017 @ 2:00 p.m. CST.