The Phantom Of The Opera: In a spectacular new performance in Little Rock
Cameron Mackintosh's spectacular new production of Andrew Lloyd Webber's The Phantom Of The OPhoto by Matthew Murphy.pera is set for its premiere Arkansas engagement at Robinson Performance Hall in Little Rock.  
With newly reinvented staging and stunning scenic design, this new version of Phantom is performed by a cast and orchestra of 52, making this one of the largest productions on tour in North America.  
"Having received great critical acclaim in the U.K. and North America, I am really pleased that Laurence Connor's new production of Phantom will continue to tour the U.S. playing in tandem with the Broadway production which soon celebrates 30 years," said Webber. 
Mackintosh said, "I'm delighted that this spectacular new production of Phantom has been as well-received in the U.S. as the brilliant original and has already been seen by over 2.5 million people across North America since it opened in November 2013." 
"Phantom is an enormous hit all over again! Powerful, gorgeous…and better than ever," said The Philadelphia Inquirer.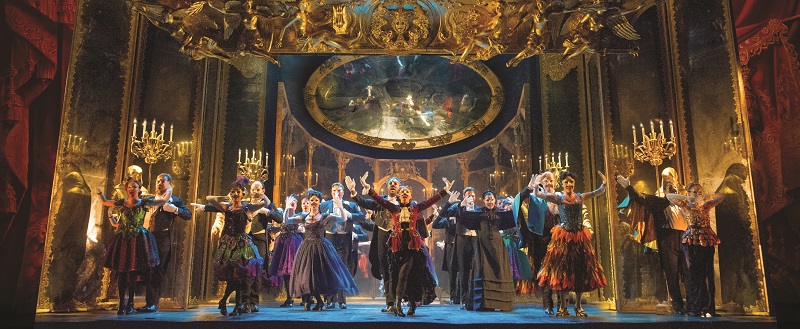 Phantom is directed by Laurence Connor (who co-directed the new production of Les Misérables, directed the award-winning new production of Miss Saigon coming to Broadway this year and directed the stage version of the movie School of Rock now playing at Broadway's Winter Garden. 
Based on the classic novel Le Fantôme de L'Opéra by Gaston Leroux, The Phantom Of The Opera tells the story of a masked figure who lurks beneath the catacombs of the Paris Opera House, exercising a reign of terror over all who inhabit it. He falls madly in love with an innocent young soprano, Christine, and devotes himself to creating a new star by nurturing her extraordinary talents and by employing all of the devious methods at his command. 
Welcomed by the Little Rock Convention and Visitors' Bureau, The Phantom Of The Opera will appear at Robinson Performance Hall in Little Rock for sixteen performances March 8-19 (Tuesday - Friday at 7:30 p.m., Saturday at 2 p.m. and 7:30 p.m., Sunday at 2 p.m. and 7 p.m.; there is a special 2 p.m. matinee on Thursday, March 9th).  
 
Tickets are now on sale and may be purchased in person at Celebrity Attractions Box Office at Robinson Center, via phone at (501) 244-8800 or online at ticketmaster.com. Groups of 10 or more receive a discount by calling (501) 492-3312. 
For more information on the production and a video sneak peek, visit www.ThePhantomOfTheOpera.com/ustour/ 
For Celebrity Attractions' productions, Celebrity Attractions and Ticketmaster are the only official retail ticket outlets and the only way to guarantee that you are paying face value for legitimate tickets.  
Copyright The Gayly - 3/4/2017 @ 10:14 a.m. CST.All rights reserved.