Pride offers liberating experiences for youth
by Elias Briggs
Journalism Intern
Every year at Pride festivals everywhere, the amount of youth present is astounding. Transmasculine youth find themselves free from having to hide chest binders, while young lesbians finally get to kiss the girl of their dreams.
The celebration hosts an air of freedom for these teens who may not feel free to express themselves openly the remaining 362 days a year.
"Pride was a very positive experience for me," said Emerson Taylor, 14, who attended Pride for the first time last year. "It was good to see so many other people like me."
"Pride makes you more okay with yourself," said Autumn Scott.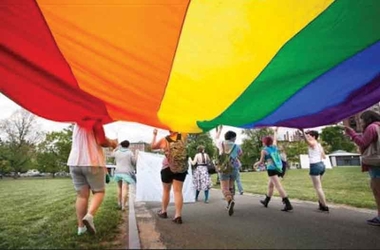 For many youths living in the South-Central Midwest often means they may only see the assembling of multiple LGBT+ people only once a year, and that short event often makes a large impact on its attendees, especially the younger ones.
Youth and their mentors similarly believe that intensely sexual aspects of Pride could be less than positive.
"The type of image that BDSM (bondage, discipline/dominance, submission, sadomasochism) groups portray can give a negative image of gay culture," said Jacob Gonzales, a teacher and GSA sponsor at Norman North School. "I do still find Pride family friendly, and family oriented, if parents explain to their children that some things are inappropriate for them." 
Allison Antee, 18, suggests, "Sexual aspects of Pride should happen after dark when young children aren't around."
However, other youths believe Pride is open to all forms of expression. "Understanding the community that you're a part of is beneficial to youth," said Kris Borsche, 16. "Pride exists is for people to express themselves!"
As for the youth that having never attended a Pride, their expectations are high. "I think Pride will be fun!" Jasmine Eiler, an 18-year-old recent graduate, said, "It will bring me a sense of humbleness to be surrounded by people like me." 
Jackson Stevens, 15, says, "I expect nice people and a good time."
Taylor summed up Pride for most queer youth when he said, "Pride is joyful and full of energy. There's nowhere else where we can genuinely and safely be ourselves."
Copyright The Gayly – June 24, 2018 @ 7:50 a.m. CDT.