"Room" and "Mr. Holmes" are Vick's picks for May
Vick's Picks
by Vick Silkenpen
Room: Since May is the month of Mother's Day, take the time to drop in on your mother and spend some quality time watching this little unconventional film together.
You won't have much trouble understanding why it received those Oscar nominations nor why Brie Larson walked away with the bald trophy for Best Actress. A five-year-old little boy named Jack (played amazingly well by nominee Jacob Tremblay) and his mom (Larson) have been held for years in a small, enclosed space, which Jack was born into, and he knows of no other environment other than how his mom explains it all to him.
The emotional trajectory of this unfolding story is not normal, so that a climax comes even before the film is half over when Jack discovers the outside world. The formidable suspense is quite potently paced. One can see in this film deeply philosophical levels (such as Plato's Allegory of the Cave, etc.) or just marvel at the intertwined complexities of imagination and a mother's love. It is a pristine example of why indie cinema is so necessary. 
Mr. Holmes: The supremely masterful acting of Ian McKellan dominates this story about a retired Sherlock Holmes ravaged with the indignities of old age in 1947. Holmes has spent decades withdrawn to the country and tending to his hives of bees even though he does have a housekeeper (Laura Linney) along with her young son named Roger.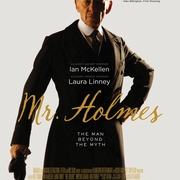 Holmes revisits the reasons for his withdrawal from his career as detective, which is no small feat while wrestling with his now diminished powers of logic and memory. However this is, after all, Sherlock Holmes, so he has no intention to 'go gentle into that good night' of bodily infirmities and dementia without trying out ways to outwit the Reaper.
Even though this elegant film lacks the physical action of some Holmes stories, that facet is not missed whatsoever as the viewer is drawn in as Holmes travels to Japan searching for a restorative plant. And as he grapples with writing a story of his final case which only glimmers in unfolding pieces. The focus and coldness of logic may have served Holmes well in solving many cases, but this elderly Holmes finds that compassion and emotion may have more worth and bigger roles in making a complete life.
Fiction can be more essential than facts. I can't praise this film enough since I am still realizing many parts of it reveal themselves over an extended period after the initial viewing. 
The Gayly – May 25, 2016 @ 1:50 p.m.