Separate from stigma and dispel the myths
by Kara Kliewer  
Staff Writer  
In a state with churches on every corner, it might seem surprising that a Pagan event has grown from accommodating 350 visitors to nearly 750 during its time of existence. It's Pagan Pride Day.
This year, Pagan Pride Day is celebrating its fifth year and is hoping to break its current attendance record with 1,000 visitors.
"Many of us hold space for the Pagan community year-round so for us it's a day we can say 'this is what I do,'" said Emmah Eastwind, organizer of the event.
"For those catering to our community members with goods and services it's 'you are important to us and we're here for you.' For seekers and those who rarely connect outside of a small circle of friends, or aren't 'joiners,' it's 'I am not alone.' And for everyone I think, it's 'we DO have a community.'"
If you've never heard of the event and are curious, Pagan Pride Day exists to give the public insight into a belief system that isn't necessarily mainstream and for allies and Pagans alike to support each other through sharing food, art, education and the like.
First things first, a Pagan is someone who follows "a spiritual path that does not worship a singular deity." Commonly, this includes spiritual paths that align with Native American deities, Astru, Wicca, Druid and more. Basically, it is an overarching term for alternative religions.
Beyond details of religion, what Pagans want you to know most about them is that they are just like everyone else. They are normal, hard-working members of society hoping to dispel myths by sharing generously with others at this celebration.
Thanks to the event, it seems that tolerance and understanding for the oft-misunderstood form of spirituality is growing. Over the past couple of years, Eastwind noted that attendance has stayed fairly regular but new people have commonly joined the community with interest. With this increase in interest, according to Eastwind, it is also encouraging to know that discrimination hasn't subsequently grown alongside the numbers of the interested.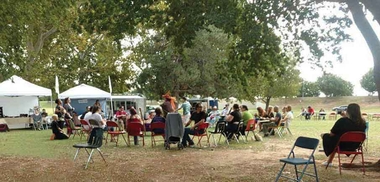 "Everyone needs a place they can go with people they can connect with that accept and encourage them on their spiritual path."
Places of worship and events associated with various religions are commonly seen and accepted. Ultimately, this day allows for Pagans to enjoy each other's company without fear and, so to speak, to exist "out of the broom closet."
Pagan Pride Day plays host to a variety of entertainment and educational elements, including: belly dancing, informational classes, a children's activity area, various vendors, drum circles, food trucks and more. Also, admission is completely free. However, it is encouraged that, in place of a fee, visitors bring non-perishable food items as they're trying to top their donation of 275 pounds from last year.
On Saturday September 30 step outside of your comfort zone and join the Pagans for a fun and informative time at 2017 OKC Pagan Pride Day. The event will be held from 11 a.m. – 5 p.m. at Wiley Post Park, 2021 S. Robinson in OKC.
Copyright The Gayly – September 19, 2017 @ 7:25 a.m. CDT.