September Gayly film reviews
by Vick Silkenpen
Solace: Even though too many critics marked this one off, I would simply be bowing to peer pressure if I did the same. I found it well worth the viewing time. There are small things here and there keeping it from being a perfect production, but those are so very tiny when compared to the sheer entertainment value.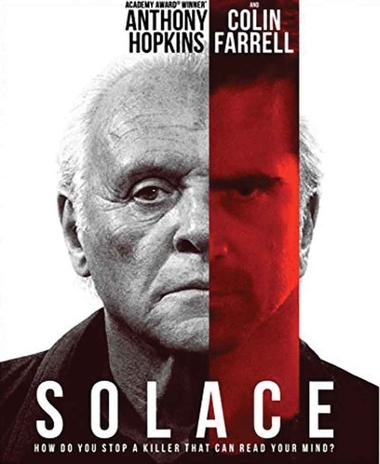 It is more than just a serial killer thriller and you will recognize script influences from other psychic involved films such as Night Has A Thousand Eyes, Scanners, Eyes of Laura Mars and many more. You most likely will be able to predict the plot development of whom the retired psychic is chasing once he is called in to help the police detectives. As you'll see, the common denominator connecting the victims is soon revealed.
The admirable visual style of the director (Afonso Poyart) from montages through excellent special effects never detracted from advancing my enjoyment. What sealed the deal for me was the inspired casting.
Anthony Hopkins as the saddened and weary psychic is just flawless in the role. When you drop in the compelling abilities of Colin Farrell as the hunted who is perhaps the nihilistic hunter the mix is totally enticing. You soon allow the tropes to be peppered in to serve as a delicious seasoning.
The Girl on the Train: I seem to be choosing films this month which did not do all that well with some other critics, so why stop now. I'll begin this one by just being blunt and admitting I am a fan of almost anything Emily Blunt does.
In this mystery, Blunt commutes on a train and begins regularly observing a random couple out her window in their home as she passes, fantasizing what their life must be like.
Her voyeurism is far more than it first appears. It becomes more and more obvious that we are dealing with an unreliable narrator with an alcohol problem who has a history with this neighborhood since it is also where her ex-husband lives with his new wife and their child.
The plot really stretches the "degrees of separation" theory as a triangle of women discover their shared penchant for making messy decisions concerning men. Blunt struggles with blackouts and flashbacks in putting things together. To solve her involvement with a suddenly missing person whom she was observing, she simultaneously devolves to a worse and worse physical appearance on screen.
A superb cast forms a solid frame for Blunt to move around in displaying her considerable talents. The themes of motherhood, adultery, gender roles, control, revenge and more combined with convincing acting swirl like papers kicked up by a passing train's draft which pulls us in.
Copyright The Gayly – September 18, 2017 @ 11:40 a.m. CDT.