Stand up for equality, justice and human dignity
by Jordan Redman
Op-Ed
December 10 is Human Rights Day. This year, the Universal Declaration of Human Rights turns 70. The theme of the 70th anniversary campaign is #standup4humanrights.
Are we standing up for human rights?
Police in Egypt, Azerbaijan, Tanzania, Indonesia, Chechnya and Tajikistan have been hunting the LGBT+ community. They are rounding up people they suspect of being gay and in many cases they have tortured or publicly humiliated them.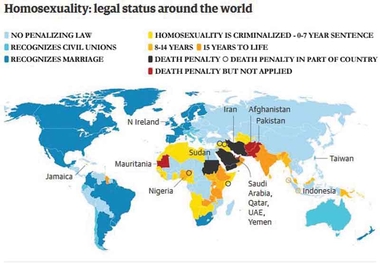 Police in Egypt are using Grindr to lure gay and bisexual men to hotel rooms to arrest them.
Police in Azerbaijan have led a violent campaign, actively arresting and torturing men presumed to be gay or bisexual. They have also detained transgender women.
In October 2016, the Tanzanian government announced a ban on HIV/AIDS outreach projects aimed at gay men. It closed U.S.-funded programs that provide testing, condoms and medical care to the gay community. The countrywide closure of private HIV clinics began soon afterwards. There has been a crackdown on homosexuality in Tanzania over the past 18 months, although the country has no law against homosexuality or its promotion.
More than 50 people in Indonesia were arrested at a sauna in Jakarta. Four men and one woman were charged under Indonesia's "Law on Pornography," which includes consensual same-sex relations.
Chechnya's law enforcement and security officials launched an anti-gay purge in February 2017. Dozens of men were rounded up on suspicion of being gay. Officials held them in unofficial detention facilities where the men were humiliated, starved and tortured. Some of the men were returned to their families barely alive, making sure to out them to their families as gay.
Authorities in Tajikistan have drafted a register of over 350 allegedly gay citizens, suggesting they would be required to undergo testing to avoid "the spread of sexually-transmitted diseases."
Many of the crackdowns mirror one another. "There are a lot of ways in which these crackdowns follow the same sequence of events," said Kyle Knight, a researcher on LGBT+ rights at Human Rights Watch.
There are eight countries in which homosexuality can result in a death penalty. There are dozens more in which homosexual acts can result in a prison sentence, according to an annual report by the International Lesbian, Gay, Bisexual, Trans and Intersex Association (ILGA).
Tolerating the global crackdown on the LGBT+ community isn't standing up for human rights.
We must stand up for the LGBT+ community around the globe.
We must declare that this behavior and these actions are not okay. We must stand up for the right to be yourself and live freely without fear.
"Wherever there is discrimination, we can step forward to help safeguard someone's right to live free from fear and abuse," says the campaign website, www.standup4humanrights.org.
"We can raise our voices for decent values. We can join others to publicly lobby for better leadership, better laws and greater respect for human dignity."
For more information on #standup4humanrights, visit www.standup4humanrights.org/en/take-action.html.
Copyright The Gayly - December 10, 2017 @ 7:15 a.m. CST.