TGirls Night Out hosts summer of fun events
by Hayden Smith
Staff Writer
Heartland TG, a group for transgender people, has its monthly night of fun right in the heart of Oklahoma City's 39th Street strip. TGirl's Night Out is their series of organized evenings for trans people to meet, connect and let their hair down.
On the second Saturday of every month, the Girls' Night Out starts the fun at 7 p.m. in Gusher's Restaurant, located inside the Habana Inn. From there, the party hits the strip around 9 p.m. for drinks, dancing and fun at the 39th street bars and clubs.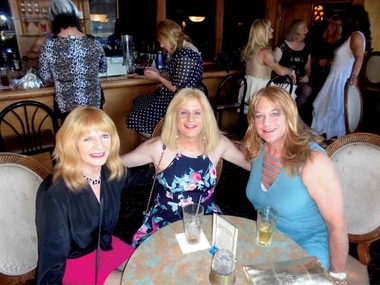 The summer meet ups have a little something extra with afternoon pool parties. The Habana Inn hosts the parties the same day as the regular social at 2 p.m. A few of the parties will have themes, with a Luau in July and a pirate theme in September, which is "eye patch and parrot optional," jokes Hanna Olsen, coordinator for the events.
"Heartland TG is different in that we focus on fun and personal growth, particularly for the less experienced woman," according to their website.
"We understand that it is difficult to be concerned about transgender issues on the geopolitical stage when you would just like to leave the house without being scared to death of being seen or what people think when they see you."
While the official name of the event and some of its activities are tailored specifically towards trans women and transfeminine people, Olsen says that "we encourage the full spectrum of our 'T' in LGBT," regardless of gender identity. Allies and cisgender significant others are also welcome to join in the festivities.
Besides their 11 year stretch of providing a fun evening for the local trans population, these events are unique, Olsen says, for the opportunity to connect with others in the same situation.
"They give us time to socialize with one another and those from the community."
For a chance to meet other transgender people on all different points in their journey, don't miss TGirls' Nights Out for a night of food, dancing and making connections.
The next official TGirls' Night Out will be Saturday, July 8, with the Luau pool party at the Habana Inn kicking off at 2 p.m. and dinner at Gusher's Restaurant starting at about 7 p.m.
For more information on this and other upcoming events, visit www.HeartlandTG.com or contact Hanna Olsen at hanna_olsenxd@yahoo.com.
Copyright 2017 The Gayly – July 3, 2017 @ 12:30 p.m.