by Vick Silkenpen
Me and Earl and the Dying Girl - It helps if you are a film fan to get the most out of this indie. Sure, it is another coming-of-age film, but this one has a way of proving absolutely that there can be transcendence in art.
Greg (Thomas Mann) and Earl (R.J. Cyler) are two high school outsiders who spend all their spare time making spoofy and clever parody videos of their favorite classic films but the arc of Greg's senior year changes when his mother cajoles him into spending time with a girl named Rachel (Olivia Cooke of Bates Motel) diagnosed with leukemia.
While this set-up sounds a bit maudlin with predictable plucks on the heartstrings, that is not the path chosen by this film. It weaves all elements so intelligently that when the final scene happens, it manages to be more than the sum of its parts delivering a highly satisfying, synergistic surprise. That in itself usually is a signal (or should be) that you are encountering art that really is art.
Director Alfonso Gomez-Rejon just seems to sense how to get really odd and emotionally raw performances from a mostly young cast while also being adept at milking equally great stuff out of veterans like Molly Shannon and Nick Offerman. I think this film is powerful enough to fit into the category of getting even better with repeated viewings.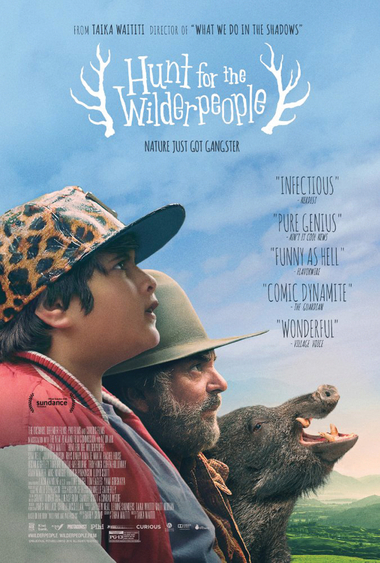 "Hunt For The Wilderpeople" (Photo Provided)
Hunt For The Wilderpeople - I'm a sucker for a film where the landscape is allowed to develop into a character. Beautiful New Zealand makes that process rather easy in this newest entry from director/writer/actor Taika Waititi.
This one is more than just a coming-of-age or growing-up-with-a-little-bit-of-help-from-my-friends film. Waititi shows that he has learned much more about what keeps an audience enthused since he made the film Boy.  
In Hunt, he begins with a rebellious city kid named Ricky (whose acting skills seem totally natural) being inserted by overly zealous government workers into a foster home far out in the countryside of New Zealand. From this point on, the incredible cast shines whether it is the loving Aunt Bella (Rima Te Wiata) or the grizzled Uncle Hec (Sam Neill). Waititi is excellent at bringing out the quirks in all the oddball characters. Watch for his appearance as the preacher delivering an offbeat sermon/eulogy at a funeral.
The belly laughs are peppered all over as Ricky and Hec are forced to become infamous outlaws on the run in the bush. It manages to not only be a Thelma and Louise road buddies parody at points but also a dog story (actually two of them named Zag and Tupac), an off-kilter comedy, an adventure, and it runs a big gamut of emotions by the end.
Adults will see much more aside references than teens when watching this one. Once you see the performance of Trifecta (Ricky Baker Song) you know things are going to continue to get hilarious.
_
Copyright 2016 The Gayly - 10/20/2016 @ 8:04 a.m.