by Vick Silkenpen
The Danish Girl:  At times it can be very difficult to judge just how far we have come in a century. This is a love story which uses the lives of Danish artists Lili Elbe (formerly Einar Wegener) and Gerda Wegener to paint a biographic history many people know very little about.
Lili can be seen as a brave pioneer in that she was one of the first transgender people to venture forth into sexual reassignment surgery. While this was groundbreaking for the time period, it is the journey involved in this romantic biopic that captures us although one has no problem understanding why actress Alicia Vikander as Gerda is the one who walks away with a Best Supporting Oscar.
Yes, Eddie Redmayne does a great job unfolding much of the confusion and pain involved in trying to figure out what is happening and what course to follow with gender identity, transition, and transformation. He is ultimately upstaged by Vikander's convincing portrayal of a huge palette of emotions as she struggles with her longing for Einar to return even as Lili progressively emerges.
The art deco settings and images really help especially when they move (or flee) to the atmospheric surroundings of 1920's Paris. Lili's diaries, letters and passages in her autobiography "Man into Woman" are incredibly interesting and, while the movie script incorporates some of her quotes, there are many more that display a kaleidoscope within this remarkable personality.
Remember: I have mentioned to friends that I am afraid that Christopher Plummer is a treasure that is not being utilized nearly enough since he seems to just get better and better. I am glad this thoughtful thriller is out there.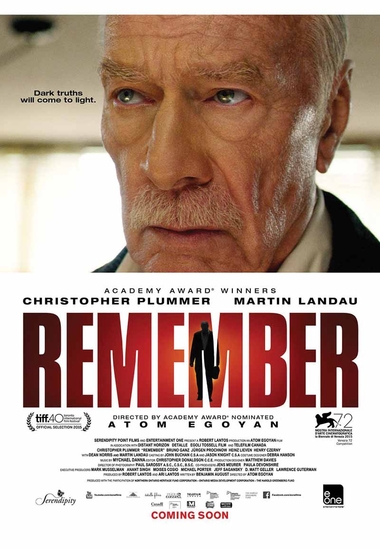 Plummer plays an elderly man (Zev Guttman) demonstrating some memory loss and living in a retirement home. His docile existence changes when his wheelchair-bound friend Max (Martin Landau) sends him a package containing cash and a letter detailing a plan to track down and execute a cruel Nazi guard who was responsible for the deaths of their families when they were in Auschwitz. The problem is Zev must skip out of his retirement home and track down four identical names on Max's provided list, any one of which might be the same guard with a new identity. 
Guttman buys (too easily) a gun and travels the U.S. and even into Canada checking out the list and following the instructions of Landau's letter and by phone calls between the two. One of the most "unforgettable" scenes involves actor Dean Norris of "Breaking Bad" fame as the state trooper son of one of the list names.
It is amazing that there is such a heavy tension and moodiness caused by the total lack of flashback scenes where they would normally be expected to go in such a narrative but director Atom Egoyan knows exactly what he is doing. While Landau only supports Plummer's complex lead, it vaguely echoes Landau's great performance with similar material in "Lovely, Still."
Copyright 2016 The Gayly – November 23, 2016 @ 7:50 a.m.