We all have a "Cop in the Head"
by Emma Rose Kraus
Journalism Intern
Most of us have an idea of what going to the theatre is like. We sit in our seats and look on as the action commences onstage, we allow the scenes to unfold before us without ever stepping in to change things or make them 'right'.
Yet, according to Brent Noel, Professor of Theatre Arts at the Oklahoma City Community College (OCCC), this isn't the only way to enjoy theatre. In fact, in OCCC's latest production, "Cop in the Head", a joint effort with the University of Science and Arts of Oklahoma in Chickasha (USAO), all of these assumptions about the theatre will be broken.
"Cop in the Head" is an improvisational technique developed by Augusto Boal, a Brazilian theatrical theorist and director. Boal developed the Theatre of the Oppressed to create dialogue and social revolution and to give external forms to internalized forms of oppression.
"Boal said that most normal theatre takes place where the people who have access to the theatre tend to do the plays and the audience gets to accept it or reject it but they can't change it," says Noel. "He decided that, 'Hey, wouldn't it be cool if rather than looking at art as a fixed product we looked at art as a process of creativity?'"
Thus Boal's system is marked in incorporating the audience into the show in which scenarios are often altered, fixed or made worse by the changes played out by audience members, or 'spect-actors', as they are called in this style.
As one of the actors currently participating in this style, the rehearsal process has already been much different than any other type of theatre I have done before. It has been important to myself that I remember there is a greater meaning to all of the activities we are participating in onstage.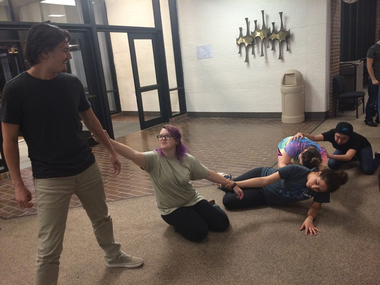 Students make images depicting given ideas and emotions during rehearsal. Photo by Emma Rose Kraus.
Since there is no script, we have no need to practice lines but instead work out scenarios, have group discussions and participate in trust falls and focus exercises in preparation. We talk to each other about many personal subjects, what our 'cops in the head' may be and slowly through that we are building a theme for what our production will ultimately be about.
"We tend to be very polarized and people have a really hard time seeing things from other peoples' point of view," says Noel. "This allows you to look at something and because dialogue is created in that moment, we talk to the actors, we talk to the audience, we allow the audience to get up and replace the actors or to do something from their point of view and I think that just doesn't happen in society much anymore."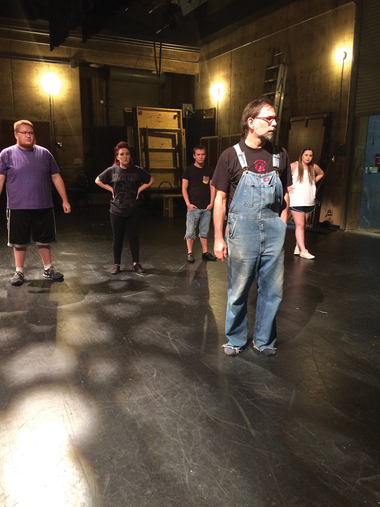 Brent Noel, Professor of Theatre Arts at Oklahoma City Community College. Photo by Emma Rose Kraus.
Another incredible part of Boal's style is how it was created for everyone and was made to be performed everywhere as a means of pushing dialogue and social revolution.
"The thing that is unique about this type of theatre is that anyone can do it," says Noel. "You don't have to have access to a theatre, you don't have to have access to money. It works with all kinds of people that don't recognize the kind of power that they could have.
"What this does is it makes people think about new ways of trying things and it's educational as much as it is entertaining."
For anyone who enjoys theatre that encourages questions and open dialogue, as well as anyone who is interested in learning more about their own personal internalized oppression, this show is definitely not one to miss.
Performances will be taking place on October 6, 7 and 8 at 7:30 p.m. in the Bruce Owen Theatre at OCCC and on October 14 and 15 at 7:30 p.m. in the Davis Hall black box theatre at USAO. The production is in collaboration with USAO along with the play Cyrano which is being directed by Katie Davis.