You can't spell truth without Ruth
'Notorious R.B.G.' argues On the Basis of Sex
by Elisabeth Slay
Staff Writer
For decades men and women were separated On the Basis of Sex. This Christmas, audiences will get to watch the journey of Ruth Bader Ginsburg and her fight for equal rights for women in a movie by that name.
Felicity Jones will play the 'Notorious R.B.G.' in this film which reveals the life of the Supreme Court Justice as a young lawyer fresh out of law school.
"The film tells an inspiring and spirited true story that follows young lawyer Ruth Bader Ginsburg as she teams with her husband Marty to bring a groundbreaking case before the U.S. Court of Appeals and overturn a century of gender discrimination," according to the movie's synopsis.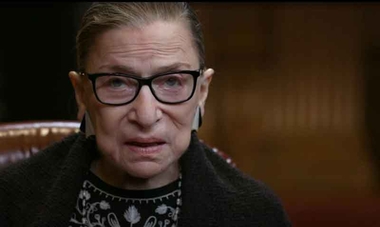 Upon the release of the trailer, women of all ages are purportedly excited for the film as it highlights a current topic of concern and follows in accordance with the women's rights movement.
"There are 178 laws that differentiate on the basis of sex," says Jones as Ginsburg. "Protests are important, but changing the culture means nothing if the law doesn't change…if the law differentiates on the basis of sex, how will woman and men ever be equal."
Acting alongside Jones are actors Armie Hammer as Ginsburg's husband Marty, Justin Theroux, Sam Waterston, Jack Reynor and Kathy Bates as civil liberties lawyer Dorothy Kenyon.
The film is directed by Mimi Leder, and it's her first feature film in a decade.
The movie's release date, Dec. 25, 2018, celebrates the twenty-fifth anniversary of Ginsburg's Supreme Court tenure.
It's been quite a year for the justice. She's also had a critically acclaimed documentary made about her life and Legislative work.
In the film, the directors of the movie, Betsy West, and Julie Cohen, focus more on the young and adult life of Ginsburg.
However, if its success is any indicator of what's to come for On the Basis of Sex, this movie is sure to be a knock out for its compelling message.
Especially with the #MeToo and #TimesUp movements, the movie is expected to be an amazing film relatable for all women.
Some naysayers worry Jones may not be able to do RBG justice, however, based on the trailer she appears to capture the Justice's strength.
"The word 'woman' does not appear anywhere in the U.S. Constitution," a male judge in the trailer says.
"Nor does the word freedom, Your Honor," Jones' Ginsburg responds.
This film about female empowerment should delight women of all ages.
Copyright The Gayly – September 26, 2018 @ 7:05 a.m. CDT.