Coming out: Gay, Christian, interracial
by Robin Dorner
Editor in Chief
Josh Rutledge has set out on a goal to change hearts and change minds. He believes, like many other people, that one can be gay and Christian. Rutledge and fellow model, Alexander Tamahn, recently completed a project/photoshoot in support of same-sex, interracial couples.
"same-sex couples are just normal couples who can practice and be confident in their faith like anyone else," said Rutledge. "This concept seems to be more difficult for interracial couples because different cultures can be very strict on gender roles and religion."
Rutledge said his goal as an artist is to challenge this mindset and hopefully inspire some understanding on the subject. That is why he and fellow model Tamahn decided to do this project.
"This was a concept I've wanted to do for a while, but it was challenging putting it together because the first couple of photographers I'd asked were worried that they might offend people with this message, so they backed out," said the artist/model. "Luckily I got to work with the talented [photographer] Jessica Montgomery."
Rutledge found Tamahn via Facebook while searching for a black, male model and Tamahn agreed to work with him. They are not a couple. In fact, they are both single!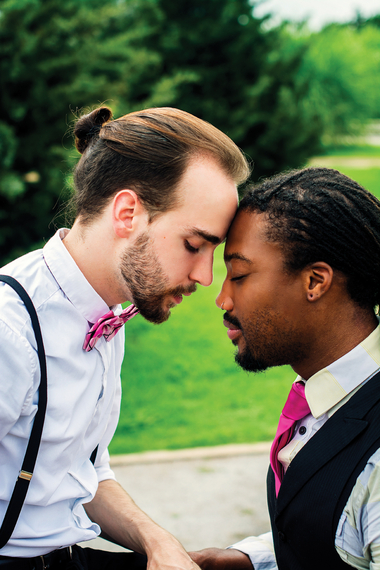 Rutledge and Tamahn face to face. Photo by Jessica Montgomery.
Rutledge said he feels like interracial couples are subject to more scrutiny, especially in our region because it is still "pretty conservative."
"I feel like I see more judgment passed on same-sex, interracial couples because there are greater differences than that of same-race couples. Some people cannot wrap their head around those cultural differences.
"I feel like churches still have a long way to go in general with accepting same-sex couples. It's like a double whammy being in a same-sex, interracial relationship. I think many religious people view it as a sort of 'kink' and not as real love."
Rutledge went on to say, "It's ridiculous and upsetting that they are still judged more harshly than other couples. Our society needs to be more accepting on this issue. I've known several families including my own that still have prejudices against those outside of their race. It puts a strain on those interracial couples trying to build a life together.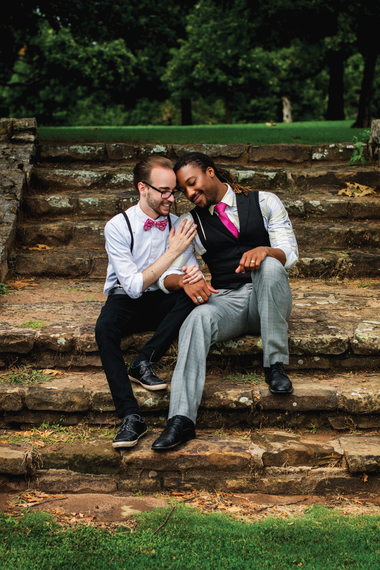 Rutledge and Tamahn face to face. Photo by Jessica Montgomery.
"Personally, I've dated a few men outside of my own race. From what I've witnessed and been told, the black community, in particular, can be very strict on gender roles here. It can be more difficult for men of color to be embraced by their community. Even when these men do feel confident enough to be open with their sexuality.
The young model said he has known a few of his black, male friends who still feel the need to keep their sexuality hidden from their church community. 
"It's sad. They're not comfortable holding their partners hand in church, etc. because they fear rejection from their church community. They'll still live half-lives keeping their partner out of that part of their life and that's not healthy. Gay men should be able to feel comfortable practicing their faith in public without fear of backlash or rejection."
Rutledge said in closing that this is a message close to his heart and he believes our society needs to talk about it.

Black & white. Photo by Jessica Montgomery.
Find The Gayly and these artists on Instagram: @thegayly, @grey_adrian, @jessicapearlphotography and @alexandertamahn.
_
Copyright 2016 The Gayly - 10/11/2016 @ 8:24 a.m.