The forgotten trailblazers: Trans women in black history
by Abra Cullen
Staff Writer
Did you know Marsha P. Johnson was not the only prominent black trans woman advocating for trans rights during Stonewall? A lesser-known black trans advocate was right there during the entire movement; Miss Major Griffin-Gracy.
Johnson and Griffin-Gracy fought against the brutality of police frequenting bars like Stonewall in hopes of arresting openly queer and trans people.
According to accounts, Johnson went so far as to strike an officer over the head with a high heel shoe. With the help of others present that evening they barricaded the doors and prevented the police officers from being able to leave.
February is Black History Month. The contributions of specifically these black trans women of color are notable. Although the Civil Rights movement and the gay rights movement were separate in organization, there are people whose identities intersected between the two movements such as Johnson and Griffin-Gracy.
Griffin-Gracy, a former sex-worker, has been an advocate for trans women in the prison industrial complex. Often trans women, especially trans women of color, will be placed in male-dominated or exclusively-male prisons which leads to a higher risk of sexual and physical violence for these women.
"So, you have a lot of the transgender women in there. You just stick them in the cell with somebody who is giving you a hard time or is brutal, and let them abuse and beat up on and fuck and rape this person because it'll keep them calm, but who cares about the young person who is in that cell with them?"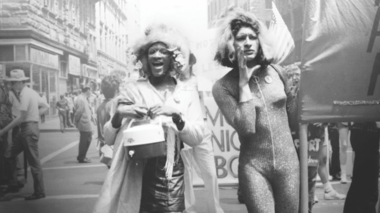 Griffin-Gracy said that very little care goes into trans inmates' quality of life. People view them as lower than other inmates.
Griffin-Gracy said trans women are frequently treated as scapegoats to placate inmates. "The abuses we suffer in prison are tantamount to torture simply because the system uses us as pawns to help keep the population calmer so they can deal with them," according to Huffington Post.
One such example of this is CeCe McDonald. She took a plea bargain after being charged with manslaughter for stabbing a man who attacked her in a bar. McDonald spent her prison sentence in two male facilities.
 The prison did not provide McDonald with hormones until the intervention of trans actress and advocate Laverne Cox. Her sentence was reduced to 19-months (from 41) thanks to Cox's contributions and advocacy.
While McDonald, the Stonewall riots and Miss Major are examples of the triumphs of black trans liberation, they are far from the norm. According to advocacy group Black Lives Matter (BLM), over 80 percent of trans people murdered are people of color.
BLM said in a statement, "Black liberation movements in this country have created room, space and leadership mostly for black heterosexual, cisgender men, leaving women, queer and transgender people and others either out of the movement or in the background to move the work forward with little or no recognition."
Advocates say addressing these problems is vital, but not until we dissolve erasure of black people in the LGBT+ rights movement. Greater efforts must be taken to ensure contributions made by black queer and trans activists are not forgotten.
Trans activist and writer Janet Mock said the responsibility lies on members of the trans community as well as allies. "Just because we are oppressed does not mean that we do not ourselves fall victim to enacting the same unconscious policing, shaming and erasing. We must return to one another with greater accountability and commitment to the work today."
Miss Major Griffin-Gracy lives in Little Rock, Ark. She continues the fight for queer and trans liberation.
The Gayly. February 24, 2018. 7:16 a.m. CST.