Happy Chanukah!  Latkes with Horseradish Crème Fraîche
by Scotty Irani
Food Columnist
I just love a big Jew…-ish holiday! And the food that comes with celebrating!
Since Chanukah is approaching I thought I would share one of my favorite recipes popular with this holiday and Passover. It is also delicious any other day of the year so be sure to tuck this under your yarmulke for later.
Wishing you and yours a wonderful holiday season filled with light, love and cooking!
Chef Scotty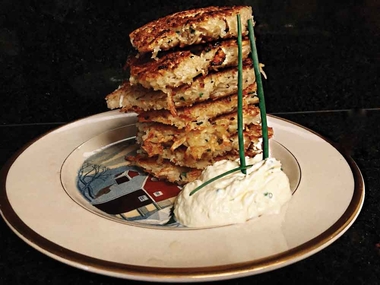 Latkes with Horseradish Crème Fraîche (serves 4-6 people)
Ingredients:
6 Yukon gold potatoes, peeled and grated (about 2 pounds)
1 cup small diced yellow onion
3 tablespoons chicken fat (or butter)
1 tablespoon Kosher salt
1 to 1 1/2 teaspoons white pepper depending on your taste
2 tablespoons finely chopped chives
2 eggs, beaten
2 tablespoons pastry flour (or substitute 3 tablespoons Matzo meal)
3 cups panko breadcrumbs
1 cup grapeseed oil for frying or chicken/duck fat (schmaltz) for extra bonus points 
For the Crème Fraîche
8 ounces homemade (or brand name) crème fraîche
2 packed tablespoons freshly grated horseradish
1 tablespoon minced chive
1/2 teaspoon fresh lemon juice
Cook's Line seasoning or salt and fresh cracked pepper to taste
Mix all together, cover and chill until ready to use.
Prepare
1. Peel and grate the potatoes on a box grater. In batches wrap into a clean kitchen towel, ball up, and squeeze out the excess potato water. Place dry shredded potatoes in a separate bowl.
2. Melt the chicken fat (schmaltz) in a sauce pan and begin to slowly cook your onion. This is your "Gribenes". Slowly cook until the onions are sweet and caramelized a golden brown.
3. Add the salt, white pepper and 2 tablespoons of chopped chives to the potatoes and hand toss. Pour in the beaten egg, mix, then the flour and mix again.
4. In a cake pan or deep-dish pie plate, add the Panko bread crumb. Ball up the potato mixture by hand and flatten out into a patty; approximately 3 inches wide and about 1/2 inch thick. Place into the Panko crumbs and coat the entire latke in the crispy crumbs. Lay out the breaded latkes on a cake rack or pan, and start heating up the oil or schmaltz in your fry pan. Also prepare a pan lined with paper towel to absorb excess oil after frying.
5. Pour enough oil in the pan to reach 2/3 up the side. Heat until shimmering and gently lay down the breaded latkes. Reduce the heat so as not to burn the crumbs, but cook to a nice golden brown. Fry both sides, flipping them over several times to get a nice even cooking.
6. Lay out on to paper towels to absorb the excess oil. Plate your latkes and serve warm with a side of the crème fraîche horseradish and chives and/or applesauce.
Copyright The Gayly – December 18, 2017 @ 7:35 a.m. CST.