Little Rock primed for "Kinky Boots"
Rock icon Cyndi Lauper won the Tony Award for Best Score for Kinky Boots. She talked about how the smash-hit musical came about: "Well, it came to me from Harvey." Her friend, four-time Tony Award winner Harvey Fierstein, wrote the book for Kinky Boots.
"And we were talking – just the way he looks at things, just the way he views a story, the way he tells a story. And if you're watching Kinky Boots, you can see what a wonderful storyteller he is. And, much to my luck, I was brought into this by him and he's basically put me under his wing," said Lauper.
The joyous production comes to Little Rock October 13-15.
Inspired by true events, Kinky Boots takes you from a gentlemen's shoe factory in Northampton to the glamorous catwalks of Milan. Charlie Price is struggling to live up to his father's expectations and continue the family business of Price & Son. With the factory's future hanging in the balance, help arrives in the unlikely but spectacular form of Lola, a fabulous drag performer in need of some sturdy new stilettos.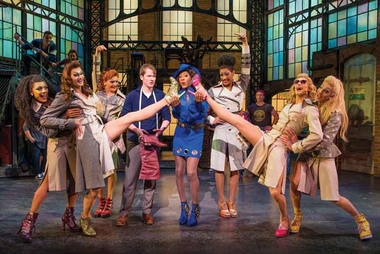 The show is full of eye-popping sets and great songs. Lauper says she has been writing poetry all her life, and it influenced her song writing for the musical. "Everybody asks the question about pop songs and theater songs. I just think that, in some ways, they're very similar and in other ways, they're not.
"You need to be economical, you have to say something simply. I believe you still can have poetry. Now, Harvey believes it has to be in the most stupid, simple terms, but I think he believes in poetry!"
The fact that Lola is a drag queen is inconsequential to Lauper, "except for the fact that he's so different from this factory bloke; that they can come together, overcome their differences, outside and in, for the greater good."
But it's not inconsequential to Gregg Barnes, costume and footwear designer for the musical. He said it was quite a challenge to create those thigh-high boots, with six inch stiletto heels. "What's really funny about our experience with Kinky Boots is that my team and the cobblers who made the boots, we had the exact same story as in the musical," explains Barnes. "Everything they talk about in terms of reinforcing the heel and all of that stuff, we had the same learning curve!"
Directed and choreographed by Tony Award-winner Jerry Mitchell, Kinky Boots has won every major Best Musical Award. It took home six 2013 Tony's, the most of any show in the season, including Lauper's for Best Score and Mitchell's for Best Choreography.
Kinky Boots comes to Little Rock's Robinson Performance Hall for five performances October 13-15. Tickets go on sale September 8 and may be purchased in person at Celebrity Attractions, by calling (501) 244-8800 or online at ticketmaster.com.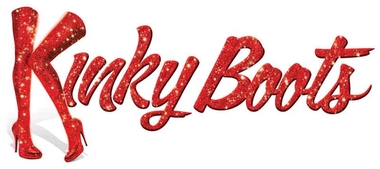 Copyright The Gayly – September 28, 2017 @ 9:40 a.m.CDT