OkEq hosts annual MOREcolor art exhibit
MOREcolor 2018, the annual exhibition of fine art sponsored by Oklahomans for Equality will once again celebrate the arts with Pride through the annual Pride Fine Arts Exhibition.
Long a tradition as a part of Tulsa Pride festivities, MOREcolor is a regional, juried and artist-friendly exhibition encouraging innovative work. The show opens with a reception June 7 at the Dennis R. Neill Equality Center, from 6-9 p.m.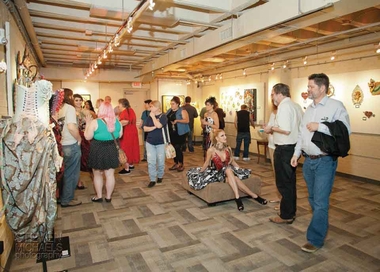 This annual event features scores of artists, live entertainment along with hors-d'oeuvres by TW's AFAB Catering and a cash bar. The event is – as always – free and open to the public; all attendees will be encouraged to vote for the People's Choice award.
While MOREcolor runs in its entirety only from Thursday, June 7 through Sunday, June 11, all works will be for sale, so you can take a piece of this transient event home to keep.  The event will be at the Dennis R. Neill Equality Center, 621 East 4th Street in downtown Tulsa, Oklahoma.
Oklahomans for Equality (OkEq) seeks equal rights for Lesbian, Gay, Bisexual and Transgender (LGBT) individuals and families through advocacy, education, programs, alliances and the operation of the Dennis R. Neill Equality Center. www.okeq.org
Copyright The Gayly – June 3 @ 10:20 a.m.