Oral Roberts grandson exposes his truths
In ground-breaking Instagram memoir, The Bible Went Down with the Birdie Jean
 
by Sara Ritsch
Staff Writer
Randy Roberts Potts was ousted by his family for being gay and rejecting the Oral Roberts tradition: Evangelism, wealth and inescapable controversy. Now, starting September 6, his memoir will be free and open to public on the "most widely accessible form of social media" there is – Instagram – as @thebirdiejean.
In 300 separate Instagram posts, The Bible Went Down with the Birdie Jean will feature photos and videos from all across Oklahoma and Oral Roberts University (ORU), as well as interviews with lesbian, gay, bisexual and transgender Oklahomans.
"It will be as long as a book, about 65,000 words," Potts says. "I'm writing my story, weaving together what life is like for LGBT people in Oklahoma and my story of growing up there as well."
Potts grew up on a Pentecostal compound in Tulsa. Surrounding its five acres were a chain-linked barbed wire fence, security cameras and guard huts, which were manned 24 hours a day, seven days a week. It was there that he went through sexual abuse as a child and – unrelated to the abuse – first confronted being gay. And it is there that he will go back.
For each segment of the memoir, Potts will highlight interesting, albeit crazy, stories from his life on and off the compound. "When I was 12 living on the compound, my grandpa [Oral Roberts] went up to the 200-foot-tall tower and wouldn't come down until his followers sent him $8 million. There were helicopters around my house; it was national news," he says, as a sneak peek into what's coming.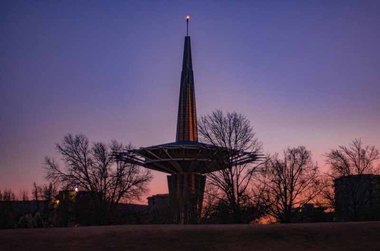 "I've been writing some of this my whole life, in a way. I'm collecting all this together and putting everything out there." The grandson of televangelist Oral Roberts is letting it all out and holding nothing back.
Through interviews, photography, storytelling and even poetry, Potts is taking chunks of a personal chronicle and releasing everything to the public – but there is a profound reason behind this exposé.
"This project is about saying goodbye to a lot of my family. The first chapter, to my mother. I'm saying goodbye because I've been disinherited, and she's not my mother anymore. It's time to vent my feelings and say goodbye. Chapter two, I'm saying goodbye to Oral Roberts. Saying goodbye to a piece of my past."
And primarily, there will be chapters featuring his uncle. Ronald David Roberts was the oldest son of Oral Roberts. At 37, he was shot. His death was ruled as a suicide. But Uncle Ronald was gay – and Potts has questions that need answering. What happened to the missing police report? These questions may not find answers; family members may not find solace. But the questions will be asked; the "fishy things" will be put forth for review and inquisition.
A story stemming from what may be the most conservative background in the state of Oklahoma, Potts intends for this to open the eyes of other closeted gays. He outlines that in a visit to ORU, he got on Grindr, a gay dating app, to chat with LGBT students. What he found was, although homosexuality is outlawed in the ORU honor code, many students were unaware of the consequences of being gay.
"One student had his face on his [Grindr] profile. He didn't know he could get kicked out," Potts says. "They don't understand how strictly anti-gay ORU is. I try to make sure they are aware and they make decisions based on that knowledge."
In an essay published by The Guardian, Potts says it best: "We Oklahoma queers can't speak English without the influence of the King James version; we can't talk about sex or coming out without using the words we heard in church."
So where homosexuality is silenced, Potts will out it. And where secrets are kept, Potts will expose it.
Almost like a podcast, the story will be released in segments. There will be nine chapters, each released every two weeks, and it will conclude at the end of the year 2016. That way, if you miss a chapter, you can always go back and check the Instagram – you can also begin the journey at any point. Just make sure you scroll from the bottom right, not the top left, so the story doesn't come across backwards.
Sarah Szabo and Nick Weaver, both young writers in Tulsa, Okla. and an out trans woman and out gay man, in a photo shoot at the ORU library in "gender inappropriate" clothing. Photos of them will be a part of all nine chapters under a section called "Homosexual Verse."

The memoir ends in 2010, purposefully leaving out aspects of his current lifestyle. His husband, for example, will not be mentioned; although they have been happily married for about four years. Instead, the story will tell personal, past excerpts, like private funerals and family gatherings, revealing the personalities of the infamous Roberts family and exactly how they treated gays.
Check out @thebirdiejean on Instagram to see clips by September 6 – and, as an early release, log onto Instagram and check out @thegayly for an exclusive sneak peek of The Bible Went Down with the BirdieJean.
Copyright The Gayly 9/5/2016 @ 10:30 a.m. CST