Roe v. Wade: Will Trump trample women's rights?
by Rob Howard
Associate Editor
What will be the fate of a woman's right to privacy and to make her own decisions about her health in the Trump era?
During the 2016 campaign, then-candidate Donald Trump, repeatedly vowed that he would nominate a judge to the Supreme Court who would help overturn Roe v. Wade.
It's been 44 years since the Roe decision was handed down on January 22, 1973. For the first time, the conclusion was that the constitutional right to privacy "is broad enough to encompass a woman's decision whether or not to terminate her pregnancy."
"It is no secret that our opposition is laser-focused on overturning Roe, especially since this administration's surprise victory in November," said Sheila Kostas, Vice President of Public Affairs & Communications for Planned Parenthood Great Plains (PPGP). "At the same time, our movement has never been stronger or more prepared to take on this challenge."
Some say the Supreme Court could leave Roe v. Wade technically in place, but rule on so many restrictions that it would be effectively dead. Organizations in this region, like PPGP, are facing this fact.
This has been the reality for red states like Arkansas, Kansas, Missouri and Oklahoma where PPGP operates 12 health centers," said Kostas.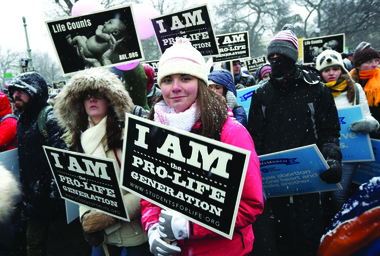 "In Arkansas, our ability to provide abortion services in Fayetteville, where we are the only provider, is being threatened by restrictions designed to make compliance impossible. Time after time, we are taking these extreme laws to court."
Even people who consider themselves pro-life have a mixed reaction to efforts to overturn Roe. Greg White, a millennial gay man who attends a Nazarene church, is one of those.
"I think I can hold a pro-life stance without taking someone's right away. I guess I'm more pragmatic about it. The only way we reduce the abortion rate is to reduce the number of unwanted pregnancies in the first place. That comes through education," White said.
White is also critical of those who want to overturn the decision. "If you overturn Roe v. Wade you don't stop abortions, you just run the entire industry underground and make it unsafe."
The fight has not been in vain. In June 2016, the Supreme Court decided Whole Woman's Health v. Hellerstedt, the most comprehensive abortion decision in a generation. Texas had imposed a set of restrictions that threatened to shut down more than half that states abortion providers. The court ruled 5-3 that Texas' restrictions were too broad.
"In Whole Woman's Health v. Hellerstedt, the Supreme Court affirmed a woman's right to safe, legal abortion without an undue burden," said Kostas. "Furthermore, the Supreme Court also agreed medically unnecessary restrictions designed to make abortion inaccessible are unconstitutional.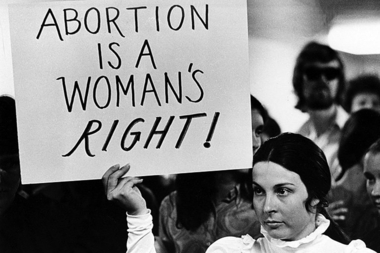 "The decision in Whole Woman's Health has set a clear and concise constitutional standard against medically unnecessary abortion restrictions. Since Whole Woman's Health, we've seen a chain reaction of extreme and draconian abortion restrictions fall in courtrooms across the country."
PPGP faces many challenges. "In our four-state region, the political climate around sexual and reproductive health and rights, specifically abortion, is incredibly toxic. Our states are all testing grounds for the most restrictive anti-abortion laws in the country," Kostas said.
Patients face the most challenging restrictions. "There are several locations where abortion access faces immediate threats because of moving lawsuits that are tied to TRAP (Targeted Restrictions of Abortion Providers) laws."
Abortion providers are in a continuous fight against anti-abortion laws. "PPGP is actively litigating six lawsuits tied back to ideological wars waged by politicians in Arkansas and Missouri. Every single one of those cases threatens a patient's ability to access Planned Parenthood health centers. But, we are proud to say that amidst these relentless attacks, PPGP's health center doors stay open, no matter what."
White's reaction to the ongoing challenges to Roe is encouraging. He says, "I think you can be against the overturn of Roe v. Wade without being pro-abortion. It's been framed as this is somehow the only way to save unborn babies, but you're still doing nothing to fix the culture or give people positive outcomes and options.
"Speaking as a Christian who holds a high value of life, I don't think reversing Roe v. Wade will come with the positive outcomes that other people think. I think it will cause more problems."
Roe v. Wade has been challenged again and again, in court and by legislatures, but remains the law in the United States. In the Trump era, that situation appears ready to continue, particularly in the area of trying to defund Planned Parenthood.
"We are actively fighting attempts to deny Medicaid patients the freedom to choose Planned Parenthood Great Plains as their provider," said Kostas. "Our organization from top to bottom is working around the clock to prevent these attacks.
"Extreme politicians are putting their most vulnerable constituents at risk when they choose to attack Planned Parenthood. We will continue to do everything we can to stand up for our patients and continue providing affordable, quality care to those who choose us as their provider."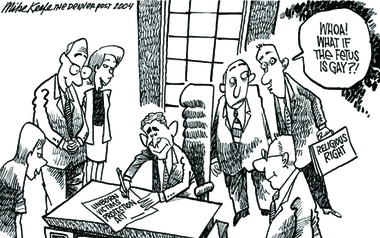 Copyright The Gayly – January 22, 2018 @ 9:58 a.m. CST.