Surprise! The state with the largest LGBT+ population isn't New York or California
(AP) The state with the highest percentage of LGBT+ people isn't what one might expect.
The gayest state in the nation, according to recently released statistics from UCLA's The Williams Institute. 2017 data from the pro-LGBT+ think tank may surprise readers.
5.3 percent of its residents openly identify as queer or transgender, putting Vermont, the Green Mountain State ahead of California, Massachusetts, and Oregon. The three states are in a tie for second place with 4.9 percent.
Others near the top of the pile are Nevada, which lands in the fifth spot with a population that's 4.8 percent LGBT+. Rounding out the top 10 are Maryland (4.7 percent), Washington (4.6 percent), New York (4.5 percent), Maine (4.5 percent) and Colorado (4.3 percent).
Given the state's history of being on the front lines of LGBT+ rights, it's understandable that queer and transgender people would flock to Vermont as a safe haven.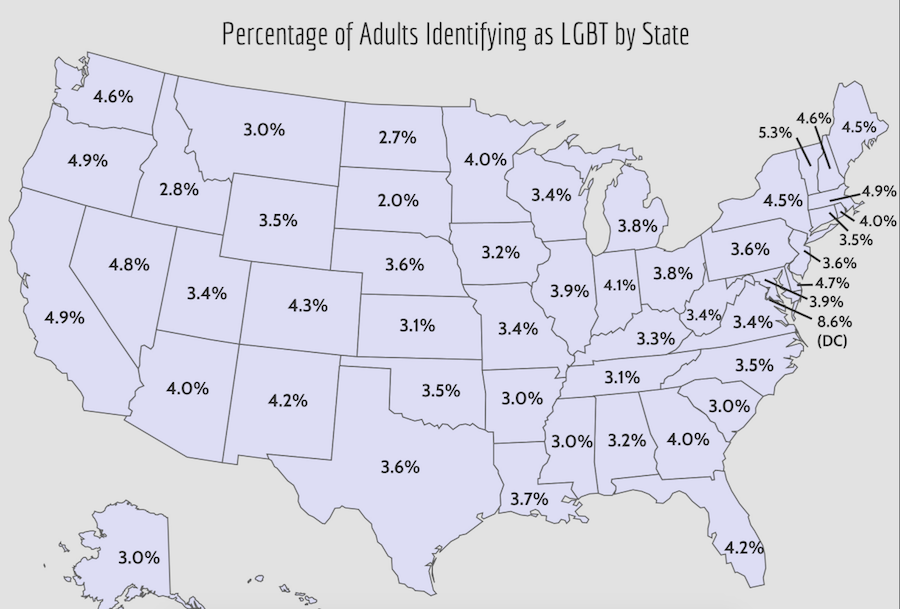 After the Vermont Supreme Court ruled it was unconstitutional to prevent same-sex couples from marrying in a landmark 1999 decision, the state became the first in the nation to legalize civil unions a year later. Vermont made history again in 2009 by becoming the first-ever state to enact marriage equality through legislation, rather than a court ruling.
The Dakotas share the smallest percentage of LGBT+ people in the United States by a comfortable margin. Just 2.0 percent of South Dakota residents claim to be queer or transgender, while North Dakota has a population that's just 2.7 percent LGBT+. 
Related: 
In 2017, what did the general public think about LGBT+ issues?
LGBTQ t-shirt quilt represents all 50 states
A challenging time for LGBT activists in US and abroad
Many of the states with the smallest LGBT+ populations are located in the far north of the United States and the deep south.
Next on the list is Idaho, which places at the lucky number 48 spot; just 2.8 percent of residents openly identify as queer or transgender. Next up are Montana, Alaska, Arkansas, South Carolina, and Mississippi, all of which have a population that's 3 percent LGBT+. Nos. 41 and 42 are Tennessee (3.1 percent) and Kansas (3.1 percent).
Outside the 50 states, Washington, D.C. continues to dominate all U.S. territories when it comes to LGBT+ inclusion. Nearly 1 in 10 of residents (8.6 percent) are LGBT+ identified.
Top 10 States:
1. Vermont (5.3 percent)
2. California (4.9 percent)
3. Massachusetts (4.9 percent)
4. Oregon (4.9 percent)
5. Nevada (4.8 percent)
6. Maryland (4.7 percent)
7. Washington (4.6 percent)
8. New York (4.5 percent)
9. Maine (4.5 percent)
10. Colorado (4.3 percent)
Bottom 10 States:
41. Tennessee (3.1 percent)
42. Kansas (3.1 percent)
43. Montana (3 percent)
44. Alaska (3 percent)
45. Arkansas (3 percent)
46. South Carolina (3 percent)
47. Mississippi (3 percent)
48. Idaho (2.8 percent)
49. North Dakota (2.7 percent)
50. South Dakota (2 percent)
The Gayly 1/3/2018 @ 4:18 p.m. CST