Transgender student in Grand Blanc voted homecoming prince
GRAND BLANC, Mich. (AP) — A transgender student in Grand Blanc has been chosen as homecoming prince.
Grand Blanc High School sophomore Kourt Frame told MLive that he decided to campaign for homecoming prince to empower people to be who they are and raise awareness about acceptance.
"I just see a lot of people getting put down, because they're not born like how they're supposed to be, and so many kids in this school are quiet and shy and scared to speak up," Kourt said. "And this was just kind of like saying, 'Hey you can do whatever you want to do.'"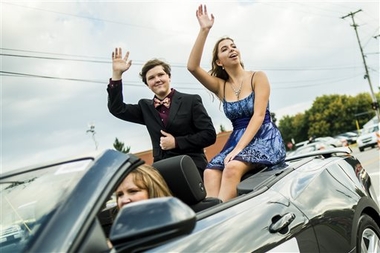 Kourt, left, waves during the homecoming parade. (Jake May/ via AP)
Kourt says he told people he was transgender in 9th grade, two years after he discovered the term that he says described how he felt since he was a child. He said he was afraid his friends wouldn't accept him for who he was, but instead he received warm acceptance.
"My friends didn't care, because to them, I'm the same person I've always been," he said. "I feel really bad, because a lot of kids don't get that. I was accepted. And loved."
For Kourt's mother, Sherri Frame, the nomination showed just how much her son was accepted.
"This, I think, probably was a 'wow' moment if there has been," Frame said. "We realized that Kourt was very accepted by Kourt's friends. And this really was, I think, a great moment at Grand Blanc."
___
Copyright 2016 The Associated Press. All rights reserved. This material may not be published, broadcast, rewritten or redistributed.
Copyright 2016 The Gayly - 10/11/2016 @ 6:04 p.m.