Unsung transgender pioneer celebrated in Tahlequah
by Sara Ritsch
Staff Writer
In response to the pre-stonewall LGBTQ histories from each of the 50 states, Jake Margolin and Nick Vaughan, visual artists, are developing a series of 50 visual art installations. One in particular, 50 States Colorado, plays a part with Carden Crow of TahlEquality in Tahlequah, Oklahoma, in June.
Margolin and Vaughan are holding a series of toasts at five simultaneous potlucks in memory of an 1880s transgender man named Charles "Frenchy" Vosbaugh in Tahlequah, New York, Houston, Minneapolis and Los Angeles. Vosbaugh's history varies as he lived as a man for over 60 years before his biological gender was discovered by the Sisters of Charity at Mt. St. Rafael Hospital in Trinidad, Colorado, where he lived out his final days.
In his time, Vosbaugh and his wife opened a restaurant in Trinidad before she mysteriously disappeared, leaving Vosbaugh to work as a cook at a remote sheep ranch for 20 years. "After his biological gender was discovered, news of this 'woman who had been disguised as a man for 60 years' hit the stands, causing a sensation," Margolin explains.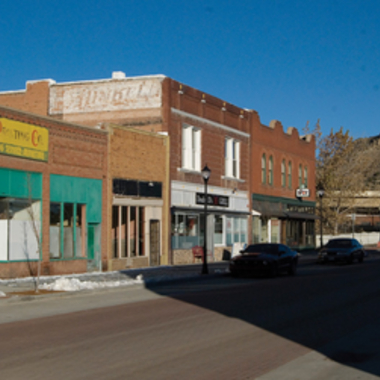 The restaurant "Frenchy" his wife Emma ran in Trinidad, CO in the early 1880s. Photo by Nick Vaughan.
The Sisters of Charity initially tried to make him dress as a woman, but his refusal was so strong in its solidarity that they instead allowed him to work as a male orderly at the hospital during his last years.
70 years later, the same hospital housed one of the country's pioneering gender affirmation surgery clinics, earning Trinidad the moniker "Sex Change Capitol of the World."
This unsung pioneer will be celebrated with these five toasts, each hosted by a transgender or gender-queer writer, artist or activist – such as Crow in Tahlequah. These potlucks will be linked and broadcasted to Trinidad and projected on screens where Margolin and Vaughan will be offering their toast and giving a presentation on "Frenchy."
"Each host will offer a toast to a transgender man who more than a hundred years ago had the bravery to live his life as he felt he was meant to," Margolin says. "It will be an affirmation that the road to progress, which we are still traveling on, was paved by such unsung heroes and heroines.
"We are thrilled to have Carden host the Tahlequah potluck. We had the pleasure of going to the TahlEquality Pride last summer, and we were so impressed with how down-to-earth, grassroots, joyous and genuine it was.
"Plus, Carden is a fantastically compelling writer and feels like a perfect fit with the other writers and artists who are hosting the events."
The date of these potlucks is set for Monday, June 27. As a video installation, it will premiere in September at one of Brooklyn's most exciting contemporary art venues, The Invisible Dog Art Center.
To find out more, visit www.nickandjakestudio.com.
The Gayly - 5/29/2016 @ 8:30 a.m. CDT