by Vick Silkenpen
Happy Endings: It appears we are now grappling to exist with an executive branch of government that seems incapable of telling the truth which results in fertile ground for political satire. In a similar sense, writer and director Don Roos uses social satire and a talented cast to play characters who are mostly incapable of telling the truth to themselves and others.
In one story line, Lisa Kudrow plays a woman who gave up her baby for adoption after having sex with her stepbrother. Later, she finds herself being blackmailed by a young filmmaker wannabe (Jesse Bradford) claiming to know how to find the now grown baby. Kudrow will only get the child's name and location if he gets to make a documentary film of the reunion.
She involves her massage therapist boyfriend, Javier (Bobby Cannavale), and quickly the documentary becomes about him leading a secret life as a sex worker for privileged white women.
Same film, another story line: A gay couple, Charley and Gil, befriend a lesbian couple with a small child whom Charley suspects is the offspring of Gil, even though the lesbians claim Gil's earlier sperm donation was a failure.
Finally, Maggie Gyllenhaal plays a young opportunist gold digger. She uses her new role as a lead singer in a band to sleep with the drummer who is trying to convince his rich father he is not gay. Maggie then maneuvers an affair with the father (Tom Arnold) and unexpectedly falls in love.
The great acting results in a quirky swarm of dysfunction and black comedy with a lot to say about the nature of truth.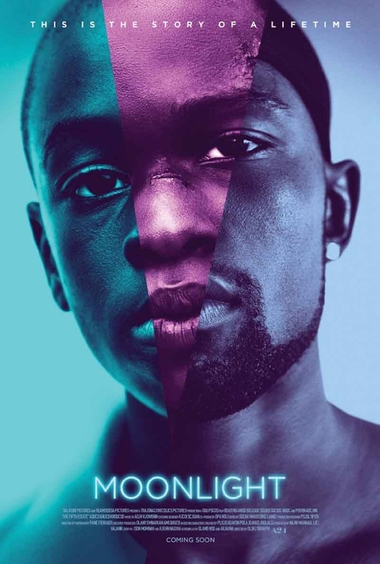 Moonlight:

Eventually, I had to see such an underdog indie film that was picking up so many nominations and awards.
Trying to describe the gamut of emotions Barry Jenkins takes us through will always leave some out, but he manages to overwhelmingly balance everything out whether it is violence with tenderness, heartbreak with resolution, struggles with tranquility or hardness with fragility.
It is far too flip to describe this story of a young man's struggle of identity as an urbanized version of Brokeback Mountain.
We watch three defining chapters (which could stand by themselves) in the life of Chiron, played astoundingly well by three different actors. In fact, even if we first notice the changes of any of the actors as the same characters as Chiron's three chapters unfold, the expressions and moods are handled so well that within several minutes the switches fade. While these three chapters support one another in allowing the protagonist to grapple with and eventually embrace his homosexuality, it artfully achieves a poetic grace and universalness while continuously edging with realism.
The entire experience gives us a lingering iridescent view that not only blurs our prejudices concerning racial, sexual and class distinctions but also justifies the title.
Copyright 2017 The Gayly – March 8, 2017@ 10:25 a.m.