Clay Aiken more concerned with voter turnout than anti-LGBT law
While he's upset with his home state of North Carolina and the new anti-LGBT legislation passed this week, Clay Aiken's greater concern is with another issue altogether. 
According to The New Civil Rights Movement, Aiken managed to post three tweets on Thursday about HB2 – apparently his first mention of the law despite months of coverage – concluding with one that suggests he thinks that what's worse than the sweepingly broad anti-LGBT law is that apathetic voters didn't come out to elect him when he ran for Congress in 2014.
"Im as pissed abt #HB2 in NC as anyone. But the number of people who are indignant abt it, yet who didn't even vote in 2014 is more sickening," the tweet read.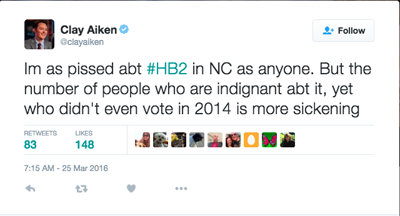 According to The Washington Blade, Aiken, who came out as gay in 2008, challenged Rep. Renee Ellmers (R-N.C.) in 2014 for her seat representing North Carolina's 2nd congressional district. The performer-turned-political hopeful won the Democratic nomination after his opponent, Keith Crisco, unexpectedly died at his home at age 71. But during the general election, Ellmers trounced Aiken 59-41 in the Republican-leaning district.
The new North Carolina law, signed Wednesday by Gov. Pat McCrory, undoes all pro-LGBT ordinances in the state, including the recently approved measure in Charlotte, and prohibits transgender people from using the restroom consistent with their gender identity. 
The Washington Blade and The New Civil Rights Movement contributed to this story. 
The Gayly- 3/26/2016 @ 9:07 AM CST