High energy "Dirty Dancing" comes to Tulsa, Fayetteville, Springfield and Wichita
by Rob Howard
Associate Editor
"What I enjoy in Dirty Dancing is I get to explore all avenues as an artist in this show. We get to sing, act and dance. I feel that's the most enjoyable. It's a triple threat," said John Swapshire, a member of the ensemble in Dirty Dancing – The Classic Story On Stage. Celebrity Attractions is bringing the high energy song and dance musical to Tulsa April 11-16 and to Springfield April 24-27.
It's the summer of 1963l 17-year-old Frances 'Baby' Houseman is on vacation in New York's Catskill Mountains with her older sister and parents. Mesmerized by the racy dance moves and pounding rhythms she discovers in the resort's staff quarters, Baby can't wait to be part of the scene, especially when she catches sight of Johnny Castle, the resort's sexy dance instructor. Passions ignite and Baby's life changes forever when she is thrown into the deep end as Johnny's leading lady, both on-stage and off.

Christopher Tierney (Johnny) and Bronwyn Reed (Baby) in the North American tour of "Dirty Dancing". Photo provided.
Millions have seen the smash-hit 1987 film. For the stage version, Eleanor Bergstein, screenwriter of the film and book writer for the stage production added 20 new original scenes, 36 numbers of live music, and place an eight-piece band onstage. "The difference is the experience," says Swapshire.
"There are traditional scenes from the movie, but the play is a completely different experience. It pulls you more into the story of Baby. It explores characters on a deeper level. You really get to meet John Castle and Baby. You get to explore the different relationships between the mom and dad and the sisters. There are a lot more dance numbers," he adds.

Christopher Tierney (Johnny) and Bronwyn Reed (Baby) in the North American tour of "Dirty Dancing – The Classic Story on Stage". Photo provided.
The North American tour is directed by James Powell with choreography by Michele Lynch based on the original choreography by Kate Champion.
Dirty Dancing – The Classic Story On Stage is an unprecedented live experience, exploding with heart-pounding music played live by the onstage band, passionate romance and sensational dancing. Seen by millions across the globe, this timeless love story features the hit songs Hungry Eyes, Hey Baby, Do You Love Me? and the heart-stopping (I've Had) The Time Of My Life. London's Sunday Express says "This crowd-pleasing stage adaptation hits the jackpot!"
Being in the ensemble is "intense work," says Swapshire. "I enjoy it. We are represented in the show very well. We have diverse roles. We play two characters. Upstairs character and downstairs dancer, where more of the dirty dancing part of the show takes place. We have a strong standing in the show, a lot of dancing, a lot of costume changes. It's fun to hop in and out of the two characters, one in a suit and tie, in the other dirty dancing in a t-shirt."
He related that the ensemble has several one-minute costume changes. Being in a high energy show like Dirty Dancing can be exhausting. "It's pretty taxing on the body. We have a personal physical therapist that helps take care of us."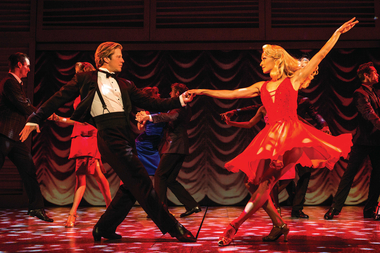 Christopher Tierney (Johnny), Jennifer Meglani Jones (Penny) and company of "Dirty Dancing". Photo provided.
Swapshire has studied all his life for this part. "I went to performance schools my entire life from Pre-K through 12th grade." He received his B.F.A. from University of Missouri – Kansas City. "There, I was able to work with many choreographers and dancers. He did residencies with many of the foremost American dance companies including Paul Taylor, River North, Pilobolus, Complextions Ballet and Alvin Ailey.
He says he almost fell into the part. "I graduated May 2016, found out about the tour two weeks later when I was touring with Wylliams/Henry. A week after that tour was over, I was in rehearsals for Dirty Dancing."
Swapshire says the hard work you see on the part of the cast isn't all that goes into a production like Dirty Dancing. "One thing that people don't realize is that with this production, the actors and the singers aren't the only ones that put on the show. Without the crew, our jobs would be pretty hard. I want audiences to know they are working hard. They help create the magic."
In addition to the Celebrity Attractions productions in Tulsa and Springfield, the touring company is also coming to Fayetteville March 8-12, and to Wichita April 18-20. See below for venue and ticket purchase information.
_
Where you can see Dirty Dancing
Fayetteville
March 8-12
Walton Arts Center
www.tickets.waltonartscenter.org, Walton Arts Center Box office or (479) 443-5600
Tulsa
April 11-13
Tulsa PAC
www.MyTicketOffice.com, (918) 596-7111 or 101 E. Third St.
Wichita
April 18-20
Century II Center
www.century2.org, (316) 303-8100 or 225 W. Douglas
Springfield
April 25-27
Hammons Hall
On sale March 24
www.HammonsHall.com, (417) 836-7678 or Hammons Hall box office
Copyright 2017 The Gayly - 3/2/2017 @ 3:24 p.m.