LGBT+ fans planning on attending the World Cup in Russia being warned not to hold hands in public
Soccer lovers are gearing up for the 2018 World Cup in Russia next summer, but LGBT+ fans planning on attending the championship are being warned it's not safe for same-sex couples to hold hands in public there.
"If you have gay fans walking down the street holding hands, will they face danger in doing so? That depends on which city they are in and the time of day," says Piara Powar, director of The FARE Network, which advocates for equality in soccer.
His group is distributing safety guides with similar warnings for LGBT+ and other at-risk World Cup attendees.
"The guide will advise gay people to be cautious in any place which is not seen to be welcoming to the LGBT+ community," Powar said in a statement. "The same message is there for black and ethnic minority fans: Do go to the World Cup, but be cautious."
It will also give honest information about the LGBT+ community in Russia, which Powar says "are not part of the public discourse" in the country. "Gay people have a place in Russia which is quite hidden and underground."
Related:
Russia Facebook page targeted LGBT+ voters
Chechen leader invokes damnation for gay persecution claims
Rights group says Chechen officials humiliated gay detainees
Starting June 14, 64 World Cup matches will be played in 11 different cities, with the finals taking place July 15 in Moscow's Luzhniki Stadium. While same-sex relationships aren't criminalized outright in Russia, the country's gay-propaganda ban prohibits "promoting" homosexuality to minors. In addition homophobic violence is commonplace and often un-investigated.
FIFA, the international soccer world's governing body, has begun to be more inclusive, going so far as to fine countries for allowing fans to yell anti-gay chants during matches. But activists and athletes, including out player Robbie Rogers, have criticized the decision to host the games in Russia. (Rogers even threatened to wear glitter and a tiara if he made the U.S. team.)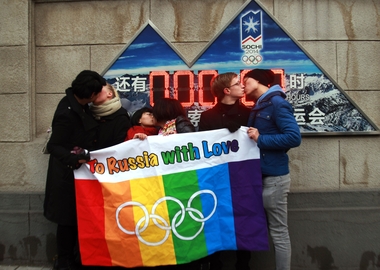 In a preemptive move, FIFA has already banned around 300 members of far-right extremist groups from attending the Russian championships.
This isn't the first time Russian homophobia has interfered with international sporting events: Similar concerns arose at the 2014 Summer Games in Sochi, even after Vladimir Putin insisted LGBT+ people attending the Olympics could feel "at ease" as long as they "leave the children in peace." Many LGBT people and allies considered boycotting the games, and then-president Obama sent a delegation of mostly gay athletes to represent the United States.
Just this month, Russia banded together with Egypt to try and get LGBT+ protections stripped from the Olympic Charter before the 2018 Winter Olympics in South Korea. 
FARE has requested fans be allowed to display rainbow flags inside stadiums during the World Cup, but Powar says he hasn't heard back from FIFA yet. His group is also urging the federation to introduce an official rule penalizing fans specifically for homophobia, as previous infractions were just categorized as "general fan misbehavior."
"It is critical there is a clear message about FIFA's ability to act in these cases against the fans that are responsible," Powar says.
Copyright The Gayly – November 30, 2017 @ 10:45 a.m. CST