Making a choice: Voters talk of decision and of tensions
Election Day has arrived at last, and Americans are heading to the polls to have their say in the choice of the next president. Some paused to talk about their decisions and the tensions of the moment.
___
Thomas Tillotson and Russ Van Deursen differed when they voted for president early Tuesday in Dixville Notch, New Hampshire, one of the first polling sites to open in the nation. But they were in solid agreement on one thing.
"It's very exciting to be the first in the nation," said Van Deursen."Your vote is right out there in the small little hamlet that we have of seven or eight voters and it feels like you're a real part of democracy." He voted for Democrat Hillary Clinton because "our country needs to move forward and I didn't believe that a presidency with (Republican) Donald Trump would move forward in a positive way."
Polls in the town opened just after midnight closed as soon as everyone had voted.
"It's an honor and privilege to be first and this is my 11th time doing it and it never gets boring," said Tillotson, a 71-year-old business consultant who voted for Libertarian Gary Johnson. He said both major parties have "gone in directions that really don't fit who I am and what I believe."
___
When Art Meadowcroft exited city hall in Plymouth, Minnesota, Monday after casting an early ballot, he reached into his pocket for a camouflage cap bearing Donald Trump's slogan, "Make America Great Again," and placed it on his head.
"It was a tough decision because he certainly had his very rough sides," Meadowcroft, 62, said of Trump, his choice for president. "But I don't think there is a question mark when it comes down to what is in his heart and what he wants for the country."
Meadowcroft, a former college administrator, coach and real estate agent who is now retired, came to vote with his sister, bringing sandwiches to pass the time in a long line. A self-described independent, he said he'd voted in the past for Democrats, including once for Bill Clinton. But he voted for Trump because it is time to get back to the "true values" of the country.
Meadowcroft said he believes firmly in immigration. But he wants better vetting to ensure "the right people are coming in, people that want to grasp our values... I think we've opened the doors too much, and made ourselves vulnerable."
___
This election marks the first time that sisters Yadira and Catherine Jimenez have voted. They cast early ballots in West Jordan, Utah, and had no hesitation about their choice. Both voted for Hillary Clinton.
For Yadira, whose husband has lived in the U.S. since he was a toddler but is not a citizen, the vote was partly a reaction to Donald Trump's hard line on immigration.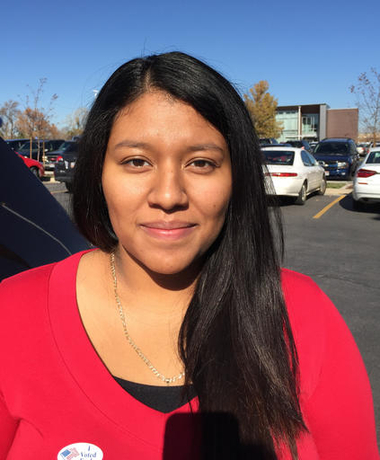 Yadira Jimenez poses for a photo after she cast early ballots in West Jordan, Utah on Monday. AP Photo, Brady McCombs.
But the sisters, both young mothers and pregnant, said they also wanted to signal their approval of a woman as the country's leader.
"I thought it would be nice to be alive to see the first lady president," said Yadira Jimenez, 24, who works the front desk at a pediatrician's office and is expecting her first daughter. "It shows you can achieve anything in life and that not just men are capable of becoming president. I want to show my children that anybody can do anything as long as they work hard."
She and her sister said it was important that the winning candidate be someone who cares about people like them. But Trump is definitely not that person, they said. "He's racist not only to Latinos, but to pretty much every race," said Catherine Jimenez, who is 20 and studying to be a medical assistant.
___
Hallie Luckianow says she considered voting for either Hillary Clinton or Donald Trump. With a father who works in an oil industry hit by sagging prices, she was drawn to Trump's America-first policy on energy. As a lesbian, she says she likes Clinton's vocal support for gay rights.
But Luckianow, taking a lunch break Monday in a Birmingham, Alabama park, said in the end she cast her vote for what she sees as a centrist choice.
"I'm kind of pulled in both directions and that's why I'm going to Gary Johnson. Because this entire election has been crazy," said Luckianow, 27, a speech therapist.
Luckianow said she liked the notion of electing the nation's first female president. But she figures that time will come soon enough, even if Clinton loses.
"I think it would be really empowering for women and empowering for little girls to see that someone other than a white male or a black male could be president," Luckianow said.
___
Associated Press writers Amy Forliti in Plymouth, Minnesota, Brady McCombs in West Jordan, Utah and Jay Reeves in Birmingham, Alabama contributed to this story.
Copyright 2016 The Gayly - 11/8/2016 @ 8:39 a.m.