Obama names Stonewall national monument
WASHINGTON (AP) — President Barack Obama created the first national monument to gay rights on Friday, designating the iconic Stonewall Inn in Manhattan where the modern gay rights movement took root nearly five decades ago.
The Stonewall National Monument will cover a 7.7 acre swath of Greenwich Village, including the tavern, the small, adjacent park called Christopher Park and the surrounding streets where people rioted after the gay bar was raided by police in 1969. Obama said the monument would "tell the story of our struggle for LGBT rights" and of a civil rights movement that became a part of America.
"I believe our national parks should reflect the full story of our country: the richness and diversity and uniquely American spirit that has always defined us," Obama said in a video announcing the monument. "That we are stronger together, that out of many, we are one."
To herald the new monument, the video of Obama, along with interviews with gay rights activists and footage from the uprising, is to be played at noon Saturday on the billboards in Times Square, the White House said.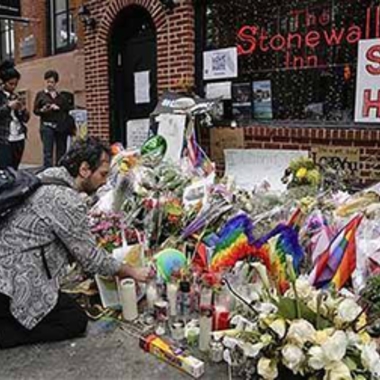 Designating the small area marks a major act of national recognition for gay rights advocates and their struggles over the last half-century. Since the 1969 uprising, the U.S. has enacted anti-discrimination protections, allowed gays and lesbians to serve openly in the U.S. military and, in a Supreme Court decision one year ago on Sunday, legalized same-sex marriage nationwide.
It also comes as the gay community comes to grips with a fresh and agonizing reminder of ongoing threats to their safety. In announcing the monument, the White House said the mass shooting at a gay bar in Orlando, Florida, illustrated that LGBT people still 'face acts of violence, discrimination and hate."
New York lawmakers have long advocated for a national designation for Stonewall. Last year, New York City made it a city landmark — the first named primarily because of significance to LGBT history.
"Stonewall is finally taking its rightful place in American history," said Rep. Jerrold Nadler, D-N.Y., who had advocated for federal recognition for the site.
JOSH LEDERMAN, Associated Press
Copyright 2016 The Associated Press. All rights reserved. This material may not be published, broadcast, rewritten or redistributed.
The Gayly - 06/24/2016 @ 11:07 a.m. CDT