Pop icon Blondie teams with Garbage for KCMO appearance
Blondie & Garbage: The Rage and Rapture Tour brings two quintessential rock acts together to share the stage for one night at KCMO's Kauffman Center, July 18.
The members of punk/new wave band Blondie are undeniable pop icons, their sound and sensibility as fresh as when they first topped the charts in the late 1970s. Blondie's brand of cross-genre rock has spawned hits including Call Me, Rapture and Heart of Glass.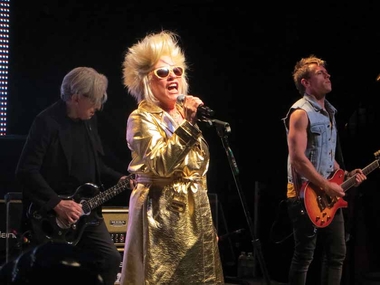 Garbage made a name in the mid-1990s with singles including Only Happy When It Rains, Stupid Girl and #1 Crush. Since the band's self-titled debut in 1995, Garbage has crafted a blend of dark, industrial noise, sci-fi pop melodies and whirlwind guitar.
"We are very excited to announce our co-headline North American tour with Garbage kicking off on July 5th in Saratoga, CA and wrapping on August 12th in Dallas," says Blondie's website. They also announced that John Doe and Exene Cervenka (of X) will provide support on the first leg of the tour, which includes the Kansas City performance.
Blondie released their 11th studio LP, Pollinator, in May. According to Rolling Stone, "The band collaborated with a wide variety of songwriters from pop (Sia, Charli XCX) and rock (The Strokes' Nick Valensi, former Smiths' guitarist Johnny Marr) on the new material."
In a statement to Rolling Stone about the new record, lead singer Debbie Harry emphasized that it will be an enjoyable affair. "We're very serious about fun," she said.
"Quoting Emma Goldman, 'If I can't dance I don't want to be part of your revolution,'" added guitarist Chris Stein, reiterating her point. "In these trying times we need some fun."
On Blondie's website, they write, "Let's face it: this is Blondie's world and we just live in it. For the last four decades, Blondie has become and still remains a true national treasure; a punk band from New York City whose influence both shaped and continues to inform the worlds of music, fashion and art.
"Debbie Harry and Chris Stein have kept their ears to the ground, creating trends, never following them. They helped push punk onto the dance floor at the dawn of the new wave era and introduced a wider audience to hip-hop sounds, all the while building a catalog of enduring pop hits along the way."
"Garbage also has recently released songs to perform; the band put out Strange Little Birds last year," wrote Rolling Stone.
Tickets for the July 18 performance of Blondie & Garbage: The Rage and Rapture Tour are $85 - $155. They are available online at www.tickets.kauffmancenter.org, by calling (816) 994-7222 or in person at the Kauffman Center box office, 1601 Broadway Blvd, KCMO.
Copyright 2017 The Gayly – July 5, 2017 @ 11 a.m.