Michigan students start project to combat hate
Holland, Mich. — A group from Hope College is sharing reflections from classmates about experiences of racism and homophobia to raise awareness, encourage discussion and change behavior on campus and in the community.
The student-run project at the Christian college in Holland, 95 Stories, aims to publish 95 stories of instances of racism and homophobia on Twitter and on the group's blog. The project is a non-policy program and isn't connected to any student group.
The group invites LGBTQ and minority students to anonymously submit one-sentence remarks.
"Out of love for our college and from a desire to love it better, we students of color and LGBT students of Hope College share stories of racism and homophobia on campus: because there can be no Christian community without candor," the group's website says. "We are asking you not to dispute or to debate, but to hear the stories of incidents that prevent Hope from being the diverse, unified Christian family we strive to be."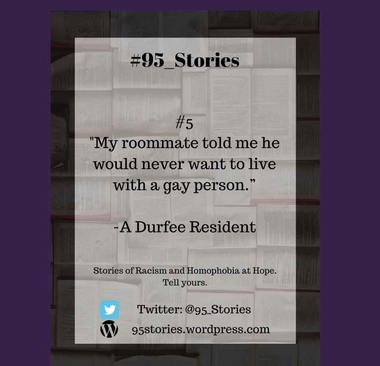 Members said honesty on campus can only grow from students telling their stories of insensitivity, disrespect and harassment on campus and the community.
"I hope as people read these stories they are asking themselves some questions," said Joshua Chun Wah Kam, a group spokesman. "Am I someone that's been hurting others? If not reflected in these stories, am I complicit? What can I do to help? How can I be an ally?"
Kam and three other members of the group held a demonstration Dec. 3 at the Hope College Christmas Vespers services at Dimnent Memorial Chapel. Members scattered project flyers from a balcony over the audience during the service. Kam said he and other members are awaiting a decision from a recent judicial review for violating student behavior policies for disrupting the event.
The project has highlighted issues the school takes seriously, said Jennifer Fellinger, vice president of public affairs and marketing at Hope. She said the administration is committed to dialogue about issues facing students who may feel marginalized.
"We stand behind this goal, and we are striving toward this goal," she said. "All members of the Hope community are called to honor the dignity and worth of one another; the mistreatment of others is unacceptable.
Copyright 2017 Associated Press. All rights reserved.
The Gayly – December 26, 2017 @ 7:45 a.m. CST.